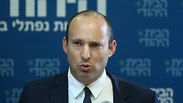 Minsiter Bennett
Photo: Ohad Zwigenberg
Bennett to travel to Pittsburgh after synagogue shooting
Diaspora Affairs Minister Bennett to visit scene of the attack, meet local community members and attend funeral of those killing in deadly attack on Tree of Life Congregation synagogue; Netanyahu: 'I'm heartbroken and appalled by the murderous attack.'
Education and Diaspora Affairs Minister Naftali Bennett will be travelling to Pittsburgh, Pennsylvania in the wake of the deadly shooting at the Tree of Life Congregation synagogue, where at least eight people were killed and several others wounded.
Local authorities and media said a gunman yelling "All Jews must die" stormed the synagogue during Saturday services and shot worshipers, killing at least eight people and wounding six others including four police officers before he was arrested.
"When Jews are murdered in Pittsburgh, the people of Israel feel pain. All Israel are responsible for one another," Bennett said.
The minister will visit the scene of the attack, meet the local community and participate in the funerals of those killed in the shooting.
"I am going to offer strength to the community and its leaders, and to examine how we can offer assistance," he said.
Bennett directed the director general of the Diaspora Ministry to prepare to assist the Pittsburgh Jewish community. Among other things, the ministry is sending emergency and resilience teams that immediately left Israel for psychological assistance and community rehabilitation.
"The State of Israel is deeply pained by this terrible anti-Semitic murder. Our Jewish brothers and sisters came under a murderous attack while at prayer. Our hearts go out to the families of those killed, and we pray for the swift recovery of the injured, as we pray this is the last such event. Jewish blood is not free. May the memory of the murdered be blessed," the minister concluded.
Prime Minister Benjamin Netanyahu also offered support to the Tree of Life Congregation, saying he was "heartbroken and appalled by the murderous attack."
"The entire people of Israel grieve with the families of the dead. We stand together with the Jewish community of Pittsburgh. We stand together with the American people in the face of this horrendous anti-Semitic brutality. And we all pray for the speedy recovery of the wounded," Netanyahu said.
President Reuven Rivlin also expressed sorrow at the horrible tragedy."Our thoughts and prayers are with those affected by the events in Pittsburgh, Pennsylvania," he said.
"We are thinking of 'our brothers and sisters, the whole house of Israel, in this time of trouble,' as we say in the morning prayers. We are thinking of the families of those who were murdered and praying for the quick recovery of those who were injured," the president added.
"I am sure that the law enforcement agencies and the legal authorities in the US will investigate this horrific event thoroughly and that justice will be served on the despicable murderer," he concluded.
Anti-Defamation League CEO Jonathan Greenblatt has tweeted: "We are devastated. Jews targeted on Shabbat morning at synagogue, a holy place of worship, is unconscionable. Our hearts break for the victims, their families, and the entire Jewish community."
The Associated Press and Reuters contributed to this story.