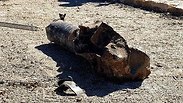 Fallen rocket found at school
Photo: Roee Idan
The Palestinian Islamic Jihad released a video on Sunday morning of the rocket it launched at Israel over the weekend, while a fallen rocket was found at a school in the Shaar Hanegev Regional Council.

A police bomb squad was called to the school to neutralize and dispose of the rocket, while students were evacuated from some of the classrooms.

Some 40 rockets were launched at Sderot and several towns near the Gaza border on Friday night and Saturday morning, with Iron Dome intercepting 17 of them. Seven people suffered from shock and six suffered minor injuries when running for shelter. Seven of those hurt were taken to the hospital.

Islamic Jihad launches rockets at Israel

The IAF struck dozens of terror sites across the Gaza Strip in response to the rockets attack. One of the targets destroyed was a building that served as Hamas' general security headquarters in Gaza's al-Daraj neighborhood.

On Saturday morning, IAF aircraft bombed eight Islamic Jihad targets in response to early morning rockets. The targets included three military sites, including sites for the manufacture of weapons in the northern Gaza Strip and a factory in the south to manufacture equipment used in tunnel construction.

No one was hurt in the attacks in Gaza.

Rocket found at Shaar Hanegev school (צילום: רועי עידן)

In the wake of the flare-up over the weekend and reports Hamas has set an ultimatum to Israel, Prime Minister Benjamin Netanyahu stressed on Sunday morning that "At no stage will Israel accept any ultimatum from Hamas. Israel will continue to act in accordance with Israeli interests and for Israel's security alone."

Despite the IDF's decision to remove all restrictions placed on the Gaza border region following the escalation over the weekend, the residents of the communities adjacent to the strip have decided not send their children to school in an act of protest against the continuing violence.

Meirav Cohen from Kibbutz Ein HaShlosha said in an interview with Ynet that the protest does not have political undertones and stems out of sheer frustration.

"We can't continue living in this war of attrition. We can't keep waiting for disaster to strike. It's important to remember there are citizens here with equal rights to all other citizens. We're not second-class, we're not invisible. We deserve to be treated properly. This is no way to live," she said.

The residents plan additional protest moves, including blocking roads and the Kerem Shalom border crossing.

Matan Tzuri, Yishai Porat, Elior Levy, Alexandra Lukash and Attila Somfalvi contributed to this report.