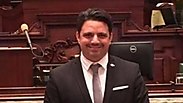 Shay Attias
Photo: Shuva Global
'Pittsburgh shooting is breaking point between Jews and rest of US'
Shai Attias, who once worked at Prime Minister's Office and is now head of an organization that deals with Israel's advocacy, was only 800 meters away from the scene of Pittsburgh shooting attack, attending a prayer in a different synagogue; 'People were in total shock ... they were not prepared, it was a sense of total helplessness.'
Head of the Israeli information organization Shuva Global, Shay Attias, addressed Saturday the Tree of Life Synagogue shooting in Pittsburgh, saying "It's a breaking point that redefines the relationship between Jews and the rest of US citizens."

At the time of the attack, in which 11 people were killed, Shuva was at the Beit HaEmunah synagogue, only 800 meters away from the Tree of Life Synagogue.

"I stood on a podium and I was about to speak to an audience of 150 people of the community, when suddenly we started receiving text messages informing us about the shooting and the casualties at the Tree of Life Synagogue," he said in an interview with Ynet.

"Initially we feared that there was a second shooter and that he was on his way to our synagogue. The faces of those present said everything—panic and helplessness was written all over them.

"We locked ourselves in the interior rooms of the building, and it took the police more than two hours to get to us. Only then we knew there was no second shooter and could go back to our homes," he explained.

"The people were in total shock," Attias said. "They did not know what to do, they were not ready, not prepared, it was a sense of total helplessness."

Attias added that "being a Jew in the United States in general, and in Pennsylvania in particular, is based on a belief that such an event—where a shooter enters a synagogue and attacks worshipers—is something that can take place in Europe and even in Israel, but not in the United States."

"You could say that after this incident, America has changed its face," Attias emphasized.

Attias has a deep connection to the Jewish community of Pittsburgh's Squirrel Hill neighborhood—where the attack took place—because that's where his wife Alina hails from.

Between the years of 2009-2013, Attias served as head of the Department of Public Affairs and Diaspora Affairs at the Prime Minister's Office, and later founded the information organization that deals with Israel's advocacy and the connection of Jewish communities abroad to Israel.

Attias is currently on a coast to coast tour of the US, during which he has met with countless Jewish communities, as well as Christians who support Israel.

"I arrived in Pennsylvania last week in order to receive an award from the House of Representatives. It was a special event … recognizing those who contributed to American society, and thanks to the initiative of Dave Zimmerman, a Jew who serves in the House of Representatives, for the first time ever this award was given to an Israeli," he stated.

Attias was asked about the relationship between the local government and the Jewish community in Pittsburgh.

"The local government's commitment to Israel, and to the US Jewish community in general, is absolute, without any doubt. I've been acquainted with Congressman Zimmerman for a long time and I know that he's working to help Israel day and night.

"The Jewish community, especially the Reform and Conservative movements, initially were wary of (US President Donald) Trump, but after his recognition of Jerusalem as Israel's capital, the attitude toward him became more sympathetic. Nevertheless, some community leaders fear that among Trump's supporters there are those who have extreme nationalistic views, which could give rise to anti-Semitic voices," Attias opined.

Squirrel Hill is considered to be the historic center of Pittsburgh Jewry, and today it has the highest percentage of Jews (26 percent of all Jewish households) in the city, and is the largest center for Jews who seek community affiliation.

In 2017, a major study conducted by the Brandeis University analyzing the Pittsburgh Jewry, found that 67 percent of the Jews who participated in the study said they were somewhat concerned about anti-Semitism, while 18 percent said they were very concerned.

One participant in the study described how a motorist once stopped him on his way to the synagogue, called him "a stupid Jew," spat on him, and told him to go back to Squirrel Hill.

The researchers stressed that there has been a wave of bomb threats (which all turned out to be false) and vandalism aimed against Jewish institutions in the United States.

Attias said that up until now the community was mostly worried about the threat of Muslim immigrants arriving in Pittsburgh.

"The community was concerned about the Muslim immigrants, the number of which keeps growing. In front of my hotel there is a private house with a large sign that says 'We accept everyone who's a guest in the United States,' and the sign is divided into three parts written in three different languages: English, Spanish and Arabic. However, our fears were never materialized.

"In recent years, I've visited countless Jewish communities in Europe, and the security there is similar to that of an airport. In Pennsylvania, like in other places in the US, the feeling was that something like this cannot happen.

"On Friday, I went to eat at a Jewish restaurant in Squirrel Hill, it's really the Brooklyn of Pittsburgh. There were a lot of people wearing skull caps, lots of Jewish businesses, and everything was calm. But now there is tremendous concern," Attias asserted.

Regarding the question of Aliya, Attias said that it is an issue he has been dealing with since his time at the Prime Minister's Office, and he does not have a definitive answer.

"The Israeli government has decided that not all Jews should immigrate from the United States to Israel, and a bridge must be maintained between us and them. It seems to me that after the latest attack, the Israeli government will have to intervene in the matter of security of American Jewish communities.

"My wife says enough is enough and we have to go back home to Israel as soon as possible, for the sake of our two little girls," Attias concluded.