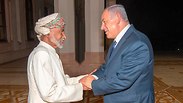 Netanyahu's visit to Oman.
Photo: AP
Following Prime Minister Benjamin Netanyahu's secret visit to Oman last week, Transportation Minister Yisrael Katz also received an invitation to travel there on an official visit.

Netanyahu said at a government meeting Sunday that Katz is to travel to Muscat next week to participate in a global transportation conference.

Katz was invited by his Omani counterpart and the organizers of the World Congress of the International Road Transport Union, and it is the first time an Israeli minister is invited to such an event in Oman.

Netanyahu's visit to Oman. (צילום: מתוך טוויטר)

"On Friday, my wife and I returned from a historic diplomatic visit to Oman. I met with the leader of Oman; Sultan Qaboos bin Said, a very experienced and impressive man," Netanyahu said.

"This is Israel's first official visit to Oman in 22 years. This visit comes against the background of diplomatic efforts that I have been promoting in recent years vis-a-vis the Arab countries," the prime minister continued.

"In our long meeting we discussed in detail the challenges facing the Middle East. These were important talks—both for the State of Israel and very important talks for Israel's security. There will be more," he promised.

During Katz's visit to the sultanate, he will present to his hosts the initiative "Tracks for Regional Peace," a railway that will connect the Mediterranean and the Persian Gulf through Israel and Jordan.

Katz is not the only minister invited to the Gulf. Communications Minister Ayoob Kara is leaving Monday for Dubai for an international media conference. Minister of Culture and Sport Miri Regev is currently in Abu Dhabi with the Israeli Judo team, which competed in the Abu Dhabi Grand Slam and brought home the gold with Sagi Muki's win.

Israel and Oman do not have diplomatic relations. Netanyahu's meeting with the Sultan was the first between the leaders of the two countries since 1996.

Oman later cut its ties with Israel with the outbreak of the second intifada.

Netanyahu and his wife were joined on the trip by Mossad Head Yossi Cohen, the Foreign Ministry's director general, and other defense officials.