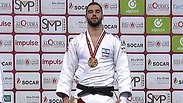 Photo: Peter Paltchik
Photo: IJF
The Israeli national anthem— Hatikvah—was played for the second day in a row in Abu Dhabi after semi heavyweight judoka Peter Paltchik had won the gold medal at the Abu Dhabi Grand Slam judo tournament on Monday.
Paltchik nabbed the gold after beating Azerbaijan's Elmar Gasimov.
Paltchik won the Wazaari (the second highest score a judoka can achieve) 29 seconds after the competition went into Golden Score (when the clock is reset to match-time, and the first judoka to achieve any score wins), defeating 2017 Bronze medalist Gasimov.
The Israeli judoka, who automatically went to the second round of the tournament, competed against Grigori Minaskin from Estonia and after a close fight, which lasted 35 seconds into the Golden Score, he scored an ippon. In the next round he beat Latvian judoka Yogens Bordovko.
In the semi-finals, Paltchik beat Germany's Karl Richard Frey after a nerve-wrecking fight, which ended after almost three minutes into the Golden Score.
Paltchik is the fourth Israeli judoka to win a medal at the 2018 Grand Slam tournament, after Sagi Muki won the gold medal on Sunday and Gili Cohen, Baruch Shamilov and Timna Nelson Levy won the bronze medal on Saturday.
Israeli Anthem played for the first time in the Abu Dhabi Grand Slam (באדיבות ערוץ הספורט)
In previous years, the Abu Dhabi Grand Slam prevented the Israeli team from competing with state symbols. When the Israeli Judoka Tal Flicker won gold in the 2017 Grand Slam, the Israeli anthem was not played, but rather the International Judo Federation (IJF) anthem sounded in the background.
This year an agreement was reached and the Israeli team was allowed compete with its national symbols. However, the competition organizers avoided raising the flags of the countries participating at the tournament, apparently since they preferred not to raise the Israeli flag.