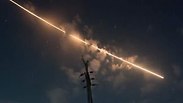 Israel has carried out attacks in Syria since the accidental shooting down of a Russian surveillance plane last month, a senior Israeli official said on Monday.

The September 17 downing by Syrian anti-aircraft fire, after Israeli Air Force (IAF) jets attacked a suspected Iranian arms shipment to Syria, caused a diplomatic rift between Israel and Russia, and Moscow blamed Israel for the incident.

The official did not give details of the nature of Israel's actions since the shooting down of the IL-20 aircraft near Latakia in which the crew of 15 were killed, or the number of times it had attacked.

"The IDF has attacked in Syria, including after the downing of the Russian plane. Military coordination with the Russians continues as before," said the senior official, who could not be named.

Israel, which has carried out air strikes in Syria many times during the civil war, said after the incident it would work to improve "deconfliction" of its missions with Russian forces, but would not halt them.

But since the Russian plane was shot down shortly after Israeli jets attacked a nearby target, there had been no reports of Israeli air strikes in Syria.

The apparent pause raised speculation in the media that Israel was either holding back at Russia's request or had paused the attacks over concern that they would fuel further tensions with Moscow.

Prime Minister Benjamin Netanyahu said earlier this month that he would meet Russian President Vladimir Putin "soon" to discuss security cooperation. Russia upgraded Syria's air defenses with the S-300 missile system after accusing Israel of indirect responsibility for the incident.