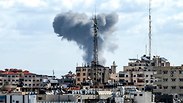 IAF strike in Gaza
Photo: AFP
The arrangement with Hamas will never happen
Op-ed: For years there has been talk about making a deal with Hamas, it had many names but it never materialized. Now, with a policy based on nothing but illusions, Israel is hoping to reach an 'arrangement' with the terror group, even though their leaders made it clear a long time ago that no potential ceasefire would ever be permanent.
We've been told for a long time that the ceasefire is on the way. It had many names in the past, such as tahdiah, hudna, and most recently—"an arrangement." On Friday, once again, reports started emerging that an agreement has been reached. Several hours later, southern Israel was hit with a barrage of rockets. What happened?

For years the Gaza Strip has been a pressure cooker bound to explode. The residents are groaning: a few hours of electricity per day, 60 percent unemployment, filthy water. The conclusion, according to politicians and commentators, is unequivocal: Hamas needs an achievement, quiet, hudna, arrangement, in order to lift the blockade and improve the situation.

There is only one problem with this theory. It is based on rational thinking. The logic of Hamas is different. Hamas does not want improvement. Hamas is putting in all the effort into preserving Gaza as the pressure cooker it currently is.

It is worth mentioning that for more than a decade, Hamas has been offered opportunities to improve the situation in the strip. In 2006, immediately after Hamas' elections victory, the international community, through Middle East Quartet, established the three conditions for continuation of the Western aid: recognition of Israel, cessation of terror and recognition of previous agreements. The very next day, Khaled Mashal announced the terror group rejects all of them.

The international community remained undeterred, but Hamas has rejected the conditions every single time. There were more proposals and initiatives, and all of them had been dismissed.

We should listen closely to what Yahya Sinwar said in a Yedioth Ahronoth interview a few weeks ago. There was no recognition of the Quartet's conditions, no acceptance of the EU proposal, and certainly no agreement regarding Mahmoud Abbas's demand to restore Palestinian Authority's security control over the Gaza Strip.

There is readiness for a ceasefire there. A senior Hamas official, Mushir al-Masri, made it clear in the past what is a ceasefire as far as Hamas is concerned.

"Any quiet that could be achieved is temporary. The meaning of 'quiet' in the dictionary of the resistance is getting ready for the next campaign. The resistance will continue to fill and develop the weapons stockpiles for future campaigns," explained the official.

And what is Israeli policy? There is no policy. Restraint is appropriate, provided it does not become an actual policy. For years there has been no Israeli initiative. Hamas could have been offered the most generous offer. It is in Israel's interests for the strip to prosper. Even if Hamas would have refused the offer, Israel wiould still have benefited from merely making such a proposal.

There is no simple solution to attrition warfare. But when pursuing an arrangement, there is a need for a coherent policy and not illusions. What we have right now is the opposite. We have no policy, and what we do have is based on illusions.