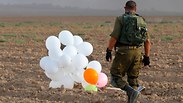 Incediary balloon near IDF soldier
Photo: AFP
Report: Israel and Hamas reach understandings on ceasefire deal
Al-Hayat newspaper reports that through extensive efforts of Egyptian intelligence officials, the terror group agreed to cease all border violence, including March of Return riots and launching of incendiary balloons, in exchange for lifting of Israeli-imposed Gaza blockade.
The Al-Hayat newspaper reported Friday that Israel and Hamas managed to reach understandings regarding a long-term ceasefire arrangement, through Egypt-mediated indirect negotiations, which would see the lifting of the Gaza blockade in exchange for complete cessation of border violence.

According to the newspaper, the possible agreement would see Hamas put an end not only to the March of Return campaign—characterized by weekly border riots, but also to the incendiary kites and balloons phenomenon that has been terrorizing the Gaza border communities for months.

The latest development is the result of the efforts by the delegation of Egyptian intelligence officials, who have visited the Gaza Strip, Jerusalem and Ramallah over the past few weeks on several occasions.

During that time, the officials reportedly met with the Hamas leadership in the Gaza Strip, headed by Ismail Haniyeh and Yahya Sinwar, at least four times.

Members of the delegation also met with representatives of other Palestinian factions in the Gaza Strip over the past week. During the meeting, the officials have reportedly said their efforts prevented an all out war from erupting between Israel and Hamas, suggesting the factions have to be fully committed to the understandings that have been reached.

The factions' representatives agreed to the proposal presented to them by the Egyptians, according to Al-Hayat.

The newspaper also reports that Israel has committed to increase the strip's fishing zone, allow the entry of fuel and more electricity into Gaza, and allow the continuation of UN-initiated infrastructure projects.

In addition, Egyptian intelligence officials presented the proposal to the leadership of the Palestinian Authority (PA), which expressed its unequivocal opposition to any agreement signed between Israel and one of the Palestinian factions without the PA's involvement and signature as the sole legitimate representative of the Palestinian people.

Palestinian President Mahmoud Abbas is willing to consent to such an agreement only after the intra-Palestinian reconciliation is completed, which would return the PA to the Gaza Strip, and technically make it the official body that signs off on the ceasefire deal with Israel.