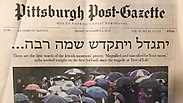 Pittsburgh Post-Gazette front page
US media say 'Kaddish' for victims of Pittsburgh massacre
Main headline of the most popular Pittsburgh newspaper open with the Jewish mourners' prayer, in Hebrew letters; US national media outlets soon follow suit—NBC News ends its Friday edition with the Kaddish prayer while CNN explains the prayer and the Halacha behind it.
"Yit'gadal v'yit'kadash sh'mei raba," read the front page of the Pittsburgh Post-Gazette—the largest and most popular newspapers in the region —which was devoted entirely to marking the one-week anniversary of the Tree of Life synagogue shooting in Pittsburgh.
The quote, written in Hebrew, is the first line of the Kaddish mourners' prayer, and in English translates to: "May His great name be exalted and sanctified..."
The unusual story inspired other national media outlets. NBC News, for example, finished its Friday news edition with a special gesture—the Kaddish prayer, read in full, and accompanied by pictures of the victims.
"The last part of our broadcast is inspired by the powerful Post-Gazette headline this morning ... On the first Saturday since the attack, we asked cantor Azi Schwartz of Park Avenue Synagogue here in New York, to help us honor (the victims) by reciting the prayer," said the NBC news anchor.
NBC Nightly News 'Remembering the lives lost in the Pittsburgh synagogue shooting'
American public learning Kaddish
CNN's digital edition also addressed the Pittsburgh Post-Gazette's gesture, by explaining the prayer's meanings and laws for a public unfamiliar with the Jewish prayer book. "The prayer is in Aramaic, which is similar to Hebrew, and shows up in different versions, including the Burial Kaddish, which is recited during funerals," CNN's site noted.
"However, the prayer doesn't even mention death. Instead, it celebrates two of the hardest things to remember during times of grief: the existence of God and the power of community," the article read.
Pittsburgh Post Gazette's executive editor and vice-president David M. Shribma devoted his editor's column to explaining the Jewish mourners' prayer.
"When you conclude there are no words to express a community's feelings, then maybe you are thinking in the wrong language. That's what prompted me to consider whether an excerpt from a 10th century prayer might be the appropriate gesture—of respect, of condolence—for a 21st century audience mourning its dead, whether family, friend, congregant, neighbor or, simply, Pittsburgher, the executive editor explained.
Liron Nagler-Cohen, Eli Mendelbaum, and Yaniv Pohoryles contributed to this story.