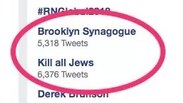 Kill the Jews trends on Twitter
Photo: Twitter
The phrase "Kill all Jews" appeared on Twitter's most popular trending hashtags having gathered over 6,000 retweets Friday after a synagogue in New York was vandalized and defaced with the anti-Semitic slur, reports BuzzFeedNews.

The incident comes after a series of anti-Semitic attacks in the United States, the most serious of which was the mass shooting at the Tree of Life Synagogue in Pittsburgh that left 11 people dead.

Friday's incident occurred at Brooklyn's Union Temple ahead of a political event organized by comedienne Ilana Glazer—who cancelled the event following the attack.

The extensive media coverage of the incident and consequent social media discussions resulted in the algorithm's recognition of the slur as a trending topic, therefore promoting it on the social network's trending list for nearly 10 minutes.

The spokesperson for Twitter issued an official response, calling the appearance of the phrase "a mistake."

"This phrase should not have appeared in trends, and we're sorry for this mistake. This was trending as a result of coverage and horrified reactions to the vandalism against a synagogue in New York. Regardless, it should not have appeared as a trend," the statement concluded.