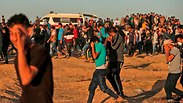 Gaza border riots
Photo: AFP
Hamas launches rehabilitation projects in Gaza amid ceasefires talks
The terror organization announces a wide-scale project in the strip, meant to provide Gaza's university graduates with 10,000 jobs; in addition, 5,000 families whose relatives were severely wounded during the 'March of Return' campaign will receive a NIS 700 grant.
The Hamas terror group announced a series of large-scale projects in Gaza on Tuesday, with the main one being creating temporary jobs for 10,000 university graduates in the coastal enclave.

The Hamas Labor Ministry representative, who announced the project during a press conference in Gaza, did not elaborate on the nature of the work, its duration, and its funding sources.

Nevertheless, Hamas's announcement might trigger a significant change in the strip, since the unemployment rate among Gaza's university graduates is over 50 percent.

Two possible funding sources are Qatar and the UN, which promised Hamas financial support in exchange for reaching calm on the Israel-Gaza border.

A representative of Hamas's Finance Ministry said that Qatar would pay Hamas officials 60 percent of their salaries—at least NIS 1,400—which was one of the chief conditions set by Hamas during negotiations talks.

Moreover, Hamas announced a NIS 700 grant to 5,000 families whose relatives were severely wounded during the "March of Return" protests and other activities related to the Palestinian struggle, as well as a NIS 100 grant to 50,000 underprivileged families in the strip. Here, too, the terror organization did not disclose its funding sources.

Hamas asserted that the organized demonstrations along the Gaza border over the past seven months led to the achievements of Palestinian resistance.

Iran has been sending Hamas large sums of money over the past few months meant for the families of those killed and wounded during the "March of Return" campaign. It appears Hamas is now trying to reward Gaza's residents for taking part in the border riots, during which more than 200 Palestinians were killed and thousands were wounded.

However, Hamas's decision to curb the violence during weekly demonstrations and halt the launching of incendiary balloons has sparked criticism in Gaza in recent days.

Meanwhile, a delegation of Egyptian intelligence officials is shuttling between Gaza, Jerusalem, and Ramallah in an effort to forge a ceasefire deal between Israel and Hamas.