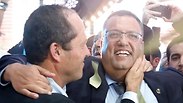 Outgoing Jerusalem Mayor Nir Barkat with the newly-elected Moshe Leon
Photo: EPA
Moshe Leon wins Jerusalem race in second round of municipal vote
Several municipalities see upsets in the runoff vote, with veteran mayors losing their seats; in Kiryat Shmona, two-terms Mayor Nissim Malka lost to 32-year-old Avihai Stern; Israel's longest-serving mayor Shlomo Bohbot lost in Ma'alot-Tarshiha after 42 years in office.
The second round of Israel's municipal elections on Tuesday saw many upsets, with Jerusalem mayoral candidate Moshe Leon, who was trailing behind during most of the vote counting, eventually being crowned winner over secularist Ofer Berkovitch, while many sitting mayors lost their seats.

Leon claimed victory with 6,526 votes (or three percent) more than his rival. Since the number of absentee ballots is only 3,820, Berkovitch has no hope of winning.

Despite this, Berkovitch declared he was not giving up, citing irregularities at the polls. "Our legal team is closely examining the results. There was a reason we warned of a force opposing us with violence and other measures that are on the verge of being illegal," he said.

Among those losing their seats was Bat Yam Mayor Yosi Bachar, who had Prime Minister Benjamin Netanyahu's support but still lost by 27% to the Likud candidate and former Trump advisor Tzvika Brot.

Rishon LeZion Mayor Dov Tzur, who was arrested during his term over suspicions of corruption, lost to his deputy Raz Kinstlich by about 5%.

Ramat Gan Mayor Yisrael Zinger, who was also suspected of corruption but the case against him was close, lost as well to former MK and former Israeli ambassador to UNESCO Carmel Shama-Hacohen by 12%.

In Raanana, the first openly gay mayor, Eitan Ginzburg, who replaced Ze'ev Bielski after the latter retired, lost to Chaim Broyde by 17%.

In Kiryat Shmona, two-term Mayor Nissim Malka only got 37% of the vote, losing to 32-year-old Avihai Stern.

In Ma'alot-Tarshiha, Israel's longest-serving mayor Shlomo Bohbot will vacate his seat after 42 years in office after receiving only 35% of the vote. The new mayor is Arkady Pomerantz.

But not all mayors were unseated. Eilat's veteran Mayor Meir Yitzhak Halevi won with 54% of the vote.

In Ramat HaSharon, incumbent Aviram Gruber won with 55% of the vote. Former Mayor Itzik Rochberger, who was convicted of fraud and breach of trust, was not allowed to run again.

Rosh HaAyin Mayor Shalom Ben Moshe will also continue to another term after defeating his rival Raz Sagi with 6% of the vote.

In additional results: Kfar Saba's new mayor is Rafi Saar, after defeating former police deputy commissioner Yossi Sedbon by 7%.

Hod HaSharon council member Amir Kochavi (69%) defeated former MK Yifat Kariv (30%, after she lost the support of the Labor party.

Meanwhile, Shuki Ohana won the mayoral race in Safed with 61% of the vote, defeating the ultra-Orthodox Nachman Gelbach. Sitting Mayor Ilan Shohat did not make it to the second round.

In Tzoran-Kadima, Meitar and Kfar Vradim the race is too close to call, as absentee ballots have yet to be counted.

Amir Alon, Inbar Tviser, Kobi Nachshoni, Shahar Hay, Ittai Shickman, Raanan Ben Zur, Meir Ohayon, Ahiya Raved and Elisha Ben Kimon contributed to this story.