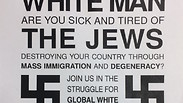 Anti-Semitic leaflet handed out at US universities
Photo: Princeton University Press Club
FBI: US anti-Semitic hate crimes spiked 37% in 2017
According to annual Hate Crime Statistics report shows overall hike of 17% in hate crimes in the United States, with anti-Semitic attacks jumping from 684 in 2016 to 938 in 2017; 'more must be done to address the divisive climate of hate in America,' says ADL director.
Hate crimes in the United States jumped 17 percent in 2017, with a huge 37 percent spike in anti-Semitic attacks, marking the third year in a row that such attacks have increased, according to FBI data released on Tuesday.

The release of the data comes just weeks after a gunman burst into a Pittsburgh synagogue and shot dead 11 worshippers while shouting "All Jews must die."

According to the FBI's annual Hate Crime Statistics report, there were a total of 7,175 hate crime incidents reported last year by law enforcement agencies, up from 6,121 incidents in 2016. The agency did not offer a reason for the increase.

Acting Attorney General Matthew Whitaker said in a statement that hate crimes were "despicable violations" of America's values.

"I am particularly troubled by the increase in anti-Semitic hate crimes," Whitaker said.

The report showed a 37 percent jump in anti-Semitic incidents to 938 from 684 a year earlier.

The Pittsburgh synagogue massacre in late October fueled a debate ahead of the November 6 national elections over US President Donald Trump's inflammatory political rhetoric and his self-identification as a "nationalist."

Critics say Trump's rhetoric has fomented a surge in right-wing extremism and may have even helped provoke the bloodshed at the Tree of Life Synagogue in Pittsburgh's Squirrel Hill neighborhood, which was the worst attack on America's Jewish community.

The Trump administration has rejected any notion that he has encouraged white nationalists and neo-Nazis who have embraced him, insisting the president's true aim is to unify America.

"This report provides further evidence that more must be done to address the divisive climate of hate in America," Jonathan Greenblatt, the Anti-Defamation League's national director, said in a statement. "That begins with leaders from all walks of life and from all sectors of society forcefully condemning anti-Semitism, bigotry, and hate whenever it occurs."

Nearly 16 percent of the 4,131 incidents in 2017 involving race or ethnicity were fueled by anti-black or African-American bias, increasing to 2,013 from 1,739 in 2016, the FBI said.

Of the 6,370 known offenders in the report, 50.7 percent were white, while 21.3 percent were Black or African-American.

The 2017 data was compiled from reports voluntarily submitted by 16,149 law enforcement agencies.

FBI officials said the agency will provide training next year for law enforcement officers on how to identify bias-motivated incidents and report that data to federal authorities.