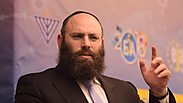 Jewish leader Rabbi Menachem Margolin, the chairman of the EJA.
Photo: Yoni Rikner
Nearly half of UK Jews consider emigrating, some to Israel
European Jewish Association say they've compiled a list of demands they intend to present to political candidates all throughout EU, in order to secure their commitment to fighting anti-Semitism; British representatives criticize Israeli government for its lack of involvement in light of possibility Jeremy Corbyn's Labour might lead the next government.
Almost half of UK Jews consider emigrating due to rising anti-Semitism, and its hold on the Labour Party, said Chairman of Campaign Against anti-Semitism Gideon Falter in an European Jewish Association (EJA) meeting in Brussels.

The annual meeting of the EJA is supported and funded by the Israeli Foreign Ministry and the Ministry of Jerusalem Affairs and Heritage, and includes representatives from various communities and other European officials.

Gideon Falter, Chairman of Campaign Against anti-Semitism

According to the data, 40 percent of British Jews are considering leaving the UK, some of them to Israel, due to the rising anti-Semitism they experience, and 90% of them believe that Jeremy Corbyn's Labour is anti-Semitic and that Jews should refrain from voting for it.

Falter criticized the Israeli government for not doing enough.

"It has an important role in this struggle, but the Jewish community in the UK feels it is on its own."

"Any help that Israel can offer regarding this struggle will be of great help to us, and we've seen it being done before," said Falter. "Jews are afraid, especially after the summer's events, that revealed Corbyn has himself been extensively involved in anti-Semitic activity for several decades."

The EJA convened in Brussels ten days after the Tree of Life Synagogue massacre in Pittsburgh, in order to discuss the rise of the populist far-right groups around Europe and how to stop them from gaining more political power.

Part of the discussion revolved around the need to compile a list with several demands and hand them to the different political candidates around the continent. If the demands remain unanswered by certain candidates—they would be blacklisted.
United in struggle—from Orthodox to Reform
European Jewish leader Rabbi Menachem Margolin, the chairman of the EJA, warned that "the future of European Jewry is on the line," and stressed the importance of drawing red lines that "will be a wake-up call for politicians."
Margolin added that "Europe is at a crossroad, and it's likely that the political sphere will be even more polarized after the elections for the EU Parliament." Current events brought leaders from different communities—Reform, Orthodox and Christians who support Israel—to unite in the name of the campaign against anti-Semitism.
The list's draft included a demand for full adoption of the International Holocaust Remembrance Alliance (IHRA) working definition of anti-Semitism, as well as appointment of a government official committed to the campaign in each country, a guarantee not to form coalitions with anti-Semitic parties, defining the BDS as an anti-Semitic movement and finally, a promise for complete freedom of worship.
Changing the Labour Party
One of the things that worry EJA the most is the situation in Britain. A British delegation to Brussels arrived in order to discuss possible actions against Labour leader Corbyn, whose past anti-Semitic activity has only recently surfaced.
Matthew James Offord, a UK Parliament member from the Conservative Party, spoke in the Brussels meeting and said that the Labour leader "never tried to face anti-Semitism or speak against it," and reminded everyone that "the only thing necessary for the triumph of evil is for good men to do nothing."
"Many of my friends are Jews who deal with anti-Semitism every day and fear that Corbyn will become the next prime minister," said Offord. "We need to make sure this doesn't happen, but we also need to make sure that the Labour changes its face, and acknowledges what it's doing, so that people can't say anti-Semitic things and remain in the party."