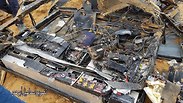 The alleged listenign devices found inside the force's vehicle
Hamas claimed on Sunday that the botched covert IDF mission in Gaza a week ago, during which Lt. Col. M. was killed, was to plant listening devices in the strip.

Senior Hamas official Khalil al-Hayya said the Israeli force that was exposed operating inside the strip seemed to be planting what appeared to have been listening devices, but the Palestinian resistance was able to thwart the mission.

He called the incident "aggression that constitutes a clear violation of the ceasefire understandings."

In an interview with Hamas's Al-Aqsa TV, whose offices were

bombed by the IAF last week

, al-Hayya said it would not be easy to infiltrate Gaza, adding that the world must realize Israel was "the source of evil and of the lack of security in the region."

"Israel thought Gaza was a safe place, and that it could sabotage it at any time it desires, but entering Gaza and undermining its security are forbidden," he continued.

Al-Hayya added the Egyptian and UN mediators, who are working to reach an arrangement between Israel and Hamas, "knew it was the occupation that violated the understandings. Israel asked to stop the escalation from the start, because it knew it was the one to initiate the crime."

During covert operational activity, an IDF Special Forces team entered three kilometers into the strip, reportedly traveling in a civilian vehicle. Hamas discovered the force and opened fire at the soldiers. During the firefight that ensued, one Israeli officer, Lt. Col. M., was killed and another was seriously hurt. Lt. Col. M. is the most senior IDF officer to be killed in Gaza since the 2014 Operation Protective Edge.

The second officer who was wounded in the attack, a captain, was discharged from the Soroka Medical Center in Be'er Sheva over the weekend after his condition had significantly improved.

Seven Palestinians were killed in the incident, including the commander of the Khan Yunis brigade. The skirmish led to a flare-up on the border, during which almost 500 rockets were fired from Gaza at Israel, killing a Palestinian man in Ashkelon. The IDF responded by bombarding over 150 targets in the strip.