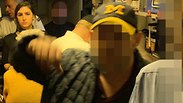 Secular people will never get it
Op-ed: We should do some soul-searching following the El Al 'Shabbat flight' ordeal: how did we get to a situation in which a religious passenger who wishes to observe the most basic Mitzvah is on public trial for it? Violence is unacceptable, but we need to acknowledge the fear of desecrating Shabbat.
We will never forget our flight back from Milan in 2006. It was a Thursday, and Israel was in the middle of a war in Lebanon. Just a few days earlier, a British Muslim terror squad, which planned to blow up airplanes using liquids, was discovered. Lines at the airport were long and people were hysterical.

The new threat caused airlines to ban liquids, even medicine and creams, and flights were bound to be delayed because of these new guidelines. The number of Israelis who wanted to return home was astounding.

At some point, a crew member approached us and said our flight is overbooked. He said we looked like nice people, and offered to treat us with a flight on the next day, Friday, in business class, and with accommodation at a five-star hotel until then. He even offered us €400 each.

We were a fairly young couple, and €800 would have been a tremendous help to us, not to mention we've never imagined we would have the opportunity to fly in business class. But we looked at each other and immediately said no. Of course not. And thanks for asking. And why is that? Because the flight was scheduled to land an hour before Shabbat.

The crew member was shocked, but moved on to the next couple. We said our "no" without regrets, hesitation, or thoughts of losing out. For us, it was crystal clear: Losing out would be to get on a plane that is delayed, just a bit, and then lands after Shabbat. Losing out would be to arrive 30 minutes before Shabbat, but then get stuck in line at passport control and… desecrate the Shabbat.

Read my lips: not €800, nor €800,000—there is no amount of money in the world that can buy my Shabbat observation, or any other observant person's. That's basic. Ask anybody.

And now a word about the "Shabbat flight" ordeal. An El Al flight that leaves late and is scheduled to arrive just on the verge of Shabbat; a flight that doesn't allow observant passengers on board to get off, while the plane waits for hours at the airport before takeoff; passengers that get vague answers while in the air, only to finally learn that they will be landing in Athens instead of Tel Aviv a moment before Shabbat.

I read the horrifying descriptions of events by flight attendants and shudder. I read violent comments from secular people who call the ultra-Orthodox names, and say they "bend our society to their will," and shudder. The differences between the two versions are as immense as the rift in Israeli society—a rift that is today bigger than ever.

I wasn't on this flight, and I don't know who said what, to whom and where. By the cockpit, in the aisle—it doesn't matter. The different testimonies show no one sector was responsible for the rage, and that the initial claims made against the observant passengers were inaccurate, to say the least. This is the place to state the obvious—violence is unacceptable.

But we also need to acknowledge that this was a traumatic event for observant people: The fear of desecrating Shabbat is traumatic. I'm happy I was spared this experience.

Someone, I'm not sure who, should be doing some soul-searching following this event. How did we get to a situation in which a religious passenger who wishes to observe the most basic Mitzvah is on public trial for it? Israel's national airline used ultra-Orthodox passengers cynically and posed as a victim. But it's an unconvincing victim.