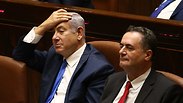 Yisrael Katz and Benjamin Netanyahu during Knesset session
Photo: Ohad Zwigenberg
Prime Minister Benjamin Netanyahu's one-vote majority coalition government faced its first defeat in the Knesset on Monday after the opposition was able to prevent an amendment to the Israel Lands Law from passing, after going back on an agreement made ahead of the vote.

After failing to pass the amendment, the coalition removed all bill proposals that were up for a vote on Monday and cancelled the rest of the plenum session.

The government has been left with a one-vote majority after Yisrael Beytenu leader Avigdor Lieberman resigned from his post as defense minister last week and withdrew his party from the government.

The coalition was then saved from complete collapse on Monday when Education Minister Naftali Bennett announced his Bayit Yehudi party will remain in the coalition despite earlier fears he would make good on his threats to leave if he is not given the defense portfolio.

During the Knesset hearing, the outgoing defense minister was seen sitting next to MK Ayman Odeh (the Joint List) on the opposition benches.

The amendment was brought down by a majority of 47 to 42—to the cheers of the members of the opposition, with a commotion breaking out both inside and outside the hall.

Five Knesset members from the opposition were absent from the vote, but it was still able to pass a vote of no-confidence. However, the vote was be ultimately meaningless because the opposition did not have enough votes to overthrow the government.

Commotion erupts during a plenum session (ערוץ הכנסת)

Ahead of the plenum session, Justice Minister Ayelet Shaked—who only hours earlier joined Bennett at his press conference announcing their party's decision to stay in the government—said she was not optimistic about the chances of the coalition's survival with only a one-vote majority.

"If Netanyahu says he can manage a one-vote majority coalition, then he can go ahead and try—good luck to him. It would be very, very difficult, especially for a coalition in its last year … We have to wait and see whether it works," Shaked stressed.

Finance Minister Moshe Kahlon also sounded skeptical whether the current government will be able to live out its days.

"It's hard to believe that it will hold. We should prepare for elections in March," Kahlon said during a meeting of his Kulanu party.