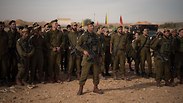 New brigade
Photo: IDF Spokesmen
The IDF Southern Command is forming a new brigade that will bring together two co-ed battalions. On Wednesday, the 80th Division, which patrols the Egyptian border, will inaugurate the "Paran" brigade which will oversee the army's two co-ed battalions, Caracal and Bardalas.

The objective of the move is to strengthen the two battalion's under one brigade commander, Lt. Col. Yitzhak Ben Bassat, and the continuation of their mission to protect the areas along the border with the Sinai Peninsula. Thus, for the first time, the soldiers will have their own brigade commander, similar to other infantry brigades such as Golani, the Paratroopers, Kfir, Nahal and Giva'ati.

The brigade headquarters will be at Ketziot, in the northern region of the "sand dunes", 40 kilometers south of the border triangle with the Gaza Strip, an area considered more vulnerable to threats owing to the settlements in the region (Kadesh Barnea for example). The area is also known for drug smuggling that sometimes develops into gunfire exchanges, mainly on the Egyptian side of the border fence.

One incident took place on Saturday when a vehicle driven by a senior Israeli military officer came under fire from the Egyptian side. There were no casualties. An initial and joint investigation with the Egyptians revealed that the shooter was an Egyptian policeman stationed in the sector.

"This is a serious and rare incident that has not occurred in the sector for a long time," explained a senior officer in the Southern Command. "The Egyptian forces sustain an average of 10 to 15 deaths a month from ISIS attacks and are under constant fire from the drug cartel... The Egyptian army investigates such incidents in a meticulous manner; it seems that the incident was not intentional."

The new brigade troops will wear the desert-camouflage colored beret and receive a new badge with the brigade's emblem, which will operate under the command of the 80th Division commander, Brigadier General Guy Hazut. As part of the organizational change, the reserve battalions of the Sagi Brigade were transferred to the Gaza Division and the Yoav Regional Brigade to the Eilat area.

The Bardalas and the Caracal Brigades will continue to carry out operations on the border with Egypt, and from time to time will also be stationed in the West Bank and other areas in order to diversify the nature of the activity. They will also continue to carry out their basic and advanced training, at the Sayarim base of the border defense system.