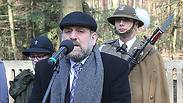 Chief Rabbi of Poland Mordechai Schudrich
Photo: AP
The Polish government will map out all the Jewish cemeteries in the country and establish a computerized database with information about the people buried there and the local Jewish history.
Chief Rabbi of Poland Mordechai Schudrich met with the Polish Minister of Culture on behalf of the European Rabbinical Conference, and the two agreed that the government would take responsibility for preserving the sensitive and historical sites.
There are no fewer than 1,400 ancient Jewish cemeteries in Poland, but only about 200 of them are clearly defined and fenced in; many are in a very dismal shape.
The result is that there are land disputes in hundreds of Jewish cemeteries, which in the best case scenario leads to their accidental desecration by local authorities and, at worst, the incursion of developers who value the land and seek to monetize it.
Chief Rabbi Schudrich and Polish Minister of Culture and National Heritage Piotr Gliński agreed that in the first stage, the Polish government will place border markers at all 1,400 cemeteries to ensure that they are preserved. The border markers will also have a barcode that will refer to the history of the place and the people buried there.
In the second stage, the cemeteries will be mapped out and the data recorded in a computerized database that will be available to the public.
Rabbi Schudrich noted that hundreds of cemeteries have already been privately mapped, and information about them is stored in the "Do not Forget" archives operated by European Rabbis and the Claims Conference.
The mapping of the other cemeteries by the Antiquities Authority in the Polish Ministry of Culture, through local authorities and with the help of international databases, makes it an official, national project.