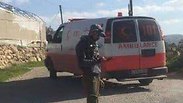 Vehicle ramming attempted attack in the West Bank
One terrorist killed, another hurt in 2 foiled West Bank attacks
Border Police officers shoot and kill a Palestinian man near Hebron after he attempted to ram his car into them; in a separate incident in the northern Jordan Rift Valley, police say another Palestinian drove his car toward IDF forces, who opened fire and wounded the driver.
Border Police officers shot and killed a Palestinian man who attempted to carry out a car-ramming attack in the West Bank on Tuesday. Within minutes, a second attempted vehicular attack was prevented in the Jordan Rift Valley, as soldiers shot and wounded a terrorist who was trying to run them over.
An initial investigation into the first incident reveals that while Border Police officers were securing an Israel Civil Administration (ICA) operation in Idhna, which is northwest of Hebron, a Palestinian crashed his vehicle into an ICA car.
As the terrorist tried to escape, he hit a Border Police officer with his car, lightly wounding him. Immediately thereafter, the Border Police force shot and killed the terrorist.
According to the police, the Palestinian driver was taken to the hospital, where he succumbed to his wounds. The Palestinian Health Ministry confirmed the death but did not immediately identify the man.
The second incident took place during an ICA operation against illegal structures located in Al-Jiftlik, a Palestinian village in the northern Jordan Rift Valley.
While ICA inspectors were examining these buildings, a Palestinian driver tried to run over an IDF force that was securing the operation. The force fired into the air, and the car stopped. The terrorist was wounded and received medical care.
Meanwhile, security forces continue their hunt for the terror cell that carried out the shooting attack in Ofra on Sunday. The search effort focuses on the Binyamin Territorial Brigade area and include the use of various intelligence capabilities, as well as ground forces. In addition, a road block has been set up in the area to inspect all the comings and goings.
According to the Palestinians, the Israeli military carried out a series of raids in the West Bank city of Ramallah. The forces raided the offices of the Palestinian news agency WAFA and seized security camera footage of a nearby building.
The defense establishment is concerned that the terrorists' success in fleeing the scene of the drive-by shooting attack in Ofra, combined with the successful escape of the the terrorist who carried out the attack in the Barkan industrial area, will encourage more attacks.
Speaking Tuesday at the opening of an interchange near an Israeli settlement, Prime Minister Benjamin Netanyahu condemned the shooting attack in Ofra and promised to "hunt down those responsible for the attack and make them pay."
The Associated Press contributed to this report.