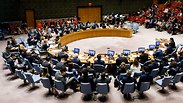 UN Security Council
Photo: EPA
The United Nations Security Council will hold a meeting next Wednesday to discuss the Hezbollah attack tunnels uncovered by the Israel Defense Forces. The tunnels, of which Israel has uncovered three, are believed to have been dug by Hezbollah fightersfrom Lebanon into Israeli territory in order to carry out attacks on civilians in the Galilee.
The meeting, called by the US at Israel's request, will also deal with Hezbollah's alleged violations of UN Resolution 1701. The resolution, which ended the 2006 Second Lebanon War, calls for the disarmament of the Iranian-backed Shiite organization and its activities in southern Lebanon.
Prime Minister Benjamin Netanyahu spoke Wednesday with UN Secretary-General António Guterres about Operation Northern Shield, and urged him to condemn what he called Hezbollah's infringement of Israeli sovereignty.
The IDF destroys a Hezbollah tunnel (Courtesy of IDF) (צילום: דובר צה"ל)
Israel and the United States are also promoting a UN draft resolution aimed at defining Hezbollah as a terrorist organization. If the proposal passes, the council would be able to impose individual sanctions on any person or body doing business with Hezbollah.
"Israel will expose Hezbollah's tactics and the indifference of the Lebanese government, which has turned a blind eye to the construction of an underground terrorist city in its territory. To fight the Shiite organization, we must use measures to silence Hezbollah and damage its terrorist operation," Israeli Ambassador to the UN Danny Danon said Wednesday.