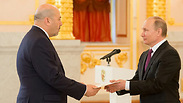 Israel Ambassador to Russia Gary Koren and Russian President Vladimir Putin
Photo: Israeli Embassy in Russia
Russia this week rejected a protest by Israel over an invitation issued to the head of Hamas by the Foreign Ministry in Moscow, which said in response that Israel holds regular talks with the Palestinian terror group.
Israel Ambassador to Russia Gary Koren lodged the protest after Ismail Haniyeh was invited to Moscow, according to a report by Israel's Channel 10 News. Relations between Israel and Russia have been strained for months, since a Russian military plane was shot down by Syrian anti-aircraft missiles as they sought to attack Israel Air Force jets during an airstrike in September.
"You are talking with Hamas," Russian Deputy Foreign Minister and Russian President Vladimir Putin's Middle East envoy Mikhail Bogdanov reportedly told the Israeli ambassador during a meeting between Jewish Agency Chairman Isaac Herzog and Russian Foreign Minister Sergey Lavrov in Moscow on Monday. The Foreign Ministry has yet to issue an official response.
Moscow has recently stepped up their involvement in the Israeli-Palestinian conflict as part of the Russian effort to establish its dominance of the Middle East. As part of their campaign for power in the region, the Russians tried to arrange a meeting between Social Equality Minister Gila Gamliel and a senior Fatah official Mohammad Dahlan in the Russian capital, which was meant to be mediated by Foreign Minister Lavrov.
Gamliel, who was the first Israeli minister to visit Moscow following the downing of Russian spy plane that sparked an international crisis, rejected the invitation after consulting with senior Israeli security officials.
Sources in Israel said the Russians had apparently even offered to host a meeting between Prime Minister Benjamin Netanyahu and Palestinian President Mahmoud Abbas in an effort to bring the two leaders back to the negotiating table.