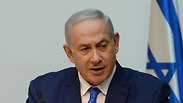 Prime Minister Benjamin Netanyahu
Photo: GPO
A senior prosecutor on the team investigating Prime Minister Benjamin Netanyahu on Thursday recommended indicting him on charges of bribery in three separate investigations.
Case 1000 (the Gifts Affair), Case 2000 (the Netanyahu-Mozes Affair), and Case 4000 (the Bezeq-Walla! case).
According to Liat Ben-Ari, there is sufficient evidence in Case 1000, which concerns illicit gifts Netanyahu allegedly received from business moguls Arnon Milchan and James Packer, to charge the PM with bribery, fraud and breach of trust, as well as to charge Milchan for bribing him.
She said that in Case 2000, Netanyahu should be charged for receiving bribes, and Yedioth Ahronoth publisher Arnon Mozes should be charged for offering bribes. The case concerns alleged discussions Netanyahu and Mozes had over an quid pro quo of positive media for the PM in return for Netanyahu weakening Yedioth's main rival newspaper Israel Hayom.
However, Ben-Ari noted that in both cases the bribery offence is minor, and could only lead to an indictment on charges of fraud and breach of trust. She said that Case 2000 could be used as evidence in Case 4000, for which she said that Netanyahu should be charged with receiving bribes, fraud, breach of trust and fraudulently obtaining benefits. The case involves the alleged plan to ease regulations for telecommunications mogul Shaul Elovitch in return for positive coverage on his Walla news website.
Ben-Ari's recommendations were forwarded to State Prosecutor Shai Nitzan and his team. They also asked Ben-Ari to provide them with additional information on several key points of the investigations.
Meanwhile, Nitzan passed on the recommendations to Attorney General Avichai Mandelblit, who will decide whether to indict Netanyahu. Nitzan denied that he has already formed an opinion on the issue, stressing he will make his own recommendations once Mandelbltt reaches his decision.
Nevertheless, senior officials believe Nitzan will adopt Ben-Ari's position, as she has a great deal of experience in leading criminal cases and is highly familiar with the details of the Netanyahu investigations.
Mandelblit is expected to convene the extended team handling the Netanyahu investigations, as he comes close to a decision whether to indict.