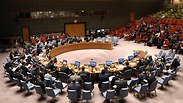 The United Nations Security Council
Photo: Reuters
The United Nations Security Council on Wednesday failed to officially condemn Hezbollah's terror tunnels stretching from Lebanon into northern Israel, despite hours of debate and censure from multiple countries.

.

Israeli Ambassador to the UN Danny Danon said the information Israel provided to UNIFIL, the UN's peacekeepers in Lebanon, had been passed to the Lebanese Army, which then passed it to Hezbollah that then attempted to conceal the tunnels on the Lebanese side.

He added that Hezbollah planned to use the tunnels to carry out a five-point attack on Israeli civilians at five different locations in the Galilee. He also displayed an image of a tunnel located near the Lebanese village of Kfar Kila that ran directly under the feet of the UNIFIL troops, claiming that there were areas where the peacekeepers could not go.

Danon also accused the Shiite terror organization of violating UN Resolution 1701, which ended the 2006 Second Lebanon War.

UNIFIL's chief, Jean-Pierre Lacroix, confirmed the organization has asked Lebanon to assist in tracking the tunnels on the Lebanese side of the border. He also admitted that at least two of the four tunnels found violated Resolution 1701.

The US condemned Hezbollah, and called on the Lebanese President Michel Aoun to take all possible measures to stave off the tunnel threat and to prevent an escalation on the Israel-Lebanese border.

Russia's representative said Israel's concerns are understandable, but stressed that in order to maintain stability in the region, both side must avoid provocations.

As expected, the Arab countries condemned the Jewish state, calming it had repeatedly violated Lebanon's sovereignty by entering its airspace, whereas the Swedish envoy condemned both sides.

Lebanon's Ambassador to the United Nations, Amal Mudallali, said her country is committed to Resolution 1701, stating that the Lebanese residents see Operation Northern Shield as "a preview for further Israeli aggression."

Israel and the US did not submit a draft resolution to condemn Hezbollah's terror tunnels, fearing Russia would veto it.