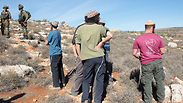 Jewish settlers in West Bank
Photo: Hillel Meir/TPS
Israeli security forces on Sunday arrested at least two Jewish youths in the West Bank, as part of a far-reaching investigation into Jewish terrorism. A gag order has been placed on details of the investigation.

The Israel Police and the Shin Bet domestic security service have in recent weeks carried out numerous raids across Jewish communities in the West Bank, which led to the detention of the two minors on Sunday. The Times of Israel said that the two were detained at a yeshiva in the northern West Bank and have been prevented from seeing a lawyer.

Also Sunday, far-right attorney Itamar Ben Gvir, known for his prior defense of Jewish terror suspects, issued a statement condemning the security forces' handling of the investigation. Ben Gvir is the lawyer for another Israeli youth who was arrested earlier Sunday.

"Over the past week, we've witnessed horrible footage of policemen abusing, hurting, starving, threatening and manipulating a minor in order to get a confession out of him," Ben Gvir said. "Issuing an order prohibiting a minor from seeing his lawyer is meant to increase the pressure on him and the abuse he is experiencing."

Six weeks ago, two masked men vandalized 15 vehicles in the Palestinian village of Asira al-Qibliya near Nablus, spray-painting malicious graffiti on the homes and vehicles there.

Furthermore, tires of some 13 vehicles were punctured in the adjacent town of Huwara. The Palestinians residing there said a hateful writing saying "Yitzhar evacuation equals price tag" was sprayed on a school wall.

In October, Aisha al-Rawbi, 47, from the village of Biddya in the West Bank, was killed after settlers reportedly hurled stones at a vehicle she and her husband were riding in near the Tapuach junction. Her husband was also wounded.