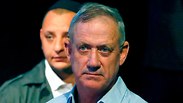 Former chief of staff Benny Gantz
Photo: AFP
Associates of former Israeli army chief Benny Gantz were quick to take credit Tuesday for a political bombshell that saw Labor leader Avi Gabbay publicly and unexpectedly split from his Zionist Union partner Tzipi Livni and her Hatnuah party.

The friends of Gantz, who on Thursday registered new party Resilience for Israel and ended months of speculation about his political plans, said that the former military man's presence in the political arena led Gabbay to drop his connection to Livni.

"The political system is adjusting to the Resilience for Israel party," Gantz's camp said. "Gantz entering politics as a leader who seeks to make significant changes in Israel has shocked the system."

Initially clearly stunned by the announcement, made as she sat by Gabbay's side at what appeared to be a routine Zionist Union faction meeting, Livni hit back at the labor leader, blaming him for the breakdown in their relationship that preceded the split.

"Gabbay was right about one thing today: There was no partnership between us, because he did not want a partnership," Livni says in a televised statement. "The way he ended it today only attests to this."

The Hatnuah leader accused Gabbay of acting out personal interests and not for the good of the nation.

"Last week I said that our priorities should be country first, then party, then me. The speech (by Gabbay) you heard today was what I have heard all this time – me, me, me."

She added: "I called last week for us to put our egos to one side. Our commitment is first and foremost to the public, who expect us to think not of ourselves but of them. It is time to look ahead and focus on the most important objective for the State of Israel. Everyone should focus on this objective… because more important than Labour and Hatnuah splitting is to split from the path this government is leading us down, so that we can separate from the Palestinians."

Prime Minister Benjamin Netanyahu, who is currently in Brazil for the inauguration of President-elect Jair Bolsonaro said he would not "interfere in how the Left divides its votes."

"The Right is forming the next government, and continuing to lead Israel is the only thing that matters," he said. "To achieve this goal, the public must vote for the Likud."

Labor MK Itzik Shmuli told Ynet that Labor will now seek to unite with Gantz.

"There are new advantages to this situation. We'll do everything in our power to unite with Gantz's new party and form a united front. Gantz, who remains quiet for the now, also needs to voice his intentions," Shmuli added.

"Gabbay is the Labor's chairman and has the full mandate to lead the party. I don't think he should be given advice about how to run the party in the media," Shmuli said.

Hatnuah MK Yoel Hasson slammed Gabbay for his actions and said Livni would lead the party in the 2019 elections.

"Gabbay created division today," Hasson said. "We will act to create unity, which unfortunately, Gabbay has failed to advance."

Yesh Atid leader Yair Lapid said he is yet to consult his team on the events of the morning, but repeated his call for the central political bloc to rally behind Yesh Atid in the upcoming elections.

When asked if he would be willing to renounce the leadership of a unified central-left bloc, Lapid said: "My answer is short — no."