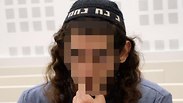 Jewish terror suspect
Photo: Shaul Golan
The Shin Bet domestic security service and the Israel Police have questioned over 30 Jewish minors and conducted numerous raids at a yeshiva (Jewish seminary) in the West Bank. The institution was attended by three suspects arrested earlier this week as part of a far-reaching investigation into Jewish terrorism in Israel.

"They told me I had ticks; they yelled at me; they made fun of me and told me we'd undergo a hard interrogation," recounted one of the teenagers who had been questioned.

Jewish Home MK Bezalel Smotrich, who was approached for help by the pedagogical staff at the yeshiva, sent a letter of complaint to Attorney General Avichai Mandelblit.

"In recent weeks, I've received multiple complaints from parents, students and staff at the institution about persecution that has reached the point of unlawful and unreasonable harassment by the Shin Bet and Israel Police," Smotrich wrote to the attorney general.

"This persecution includes threats, mass summons of students at the educational institution for intimidating talks, testimonies and questionings, as well as threats and intimidation of various people with ties to the institution, in an attempt to undermine it, its good name and any cooperation with it. This is most likely a form of 'fishing,' the loss of all common sense, firing in all directions without any concrete and specific suspicions," he said.

Smotrich conceded that suspicions of Jewish terrorism should be investigated, "but they must do it in a way that is common and acceptable in a democratic and law-abiding country. There must not be collective punishment and manipulation of the yeshiva students and employees based on a general assumption some of the students are involved (in the case)."

Attorney Adi Kedar of the Honenu NGO, who represents suspects in the case, said he had complained to the police about the matter in early November 2018. "The Shin Bet marked them as targets, and as a result the rights of innocent people are being violated; the daily lives of teens and families are being adversely impacted," he said. "This is a wrong and dangerous practice that should be denounced. We've already seen how such practices can lead to false charges."

Attorney Itamar Ben-Gvir, who also represents suspects in the case, added: "Coming to an educational institution and harassing the students there is the lowest thing that can be done. If this were a school in (the East Jerusalem Arab neighborhood of) Silwan or the Bedouin community, the National Council for the Child and all of the other human rights organizations would've protested. But when it's an institution attended by settlers, suddenly children have no rights. It's very serious."