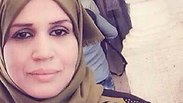 Five Israeli teenagers arrested as part of a police investigation into Jewish terrorism are suspected of causing the death of a Palestinian woman by hurling stones at the vehicle she was traveling in near the Tapuach junction in the West Bank, according to details released when a gag order was lifted Sunday.

Three months ago, Aisha al-Rawbi, 47, and her husband Aykube, 52, were driving through the junction with their nine-year-old daughter, on their way back from a family wedding in Hebron, when a big rock was thrown at their car, hitting Aisha in the head and killing her.

The five teenagers arrested in the case are suspected of a series of severe terrorism offenses, including her murder. They are all under the age of 18 and have not been formally charged.

Three of the suspects were arrested on December 30 by the Shin Bet domestic security service and the Israel Police, while two others were arrested on Saturday. All five are students at the Pri Ha'aretz (fruit of the land) yeshiva in the West Bank settlement of Rehelim, which is close to the scene of the attack.

Additional details from the investigation are still under gag order.

Meanwhile, dozens of Hilltop Youth (extreme right Jewish settler youth) protested outside the Rishon LeZion Magistrate's Court, where a hearing was held for the suspects on Sunday.

The protesters stood outside the window of the courtroom and made noise by shouting and blowing whistles in an effort to disrupt the hearing. Several of them held up signs saying "kippot and payot are not evidence" and "stop the out-of-control Shin Bet."

Lawyers for the five suspects have said their clients were being held in isolation in a bid by the Shin Bet to force false confessions. The Shin Bet said in its statement the detainees had been questioned in accordance with the law.

"Since the arrests began, the Shin Bet has identified an intentional and ongoing effort by interested parties to defame the agency and its personnel and delegitimize its activity. This attempt is reprehensible, and it will not dissuade the Shin Bet from continuing its activity to thwart any kind of terrorism—Jewish or Palestinian," the agency said.

"The detainees in Shin Bet interrogations receive the full rights they are accorded under the law. The claims the detainees' rights were violated against the law are baseless and meant to divert the discussion from the serious suspicions under which they were arrested for questioning."

Reuters contributed to this story.