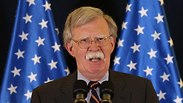 U.S. National Security Advisor John Bolton
Photo: Amit Shabi
Israel wants the US to recognize its sovereignty on the Golan Heights, Prime Minister Benjamin Netanyahu told American National Security Advisor John Bolton on Sunday, as the two met in Jerusalem for talks on the US plans for the Middle East.
Netanyahu stressed Israel's right to the Golan at a joint press conference with Bolton, and vowed that the Jewish state would never give up its claim. Bolton arrived in Israel on Saturday, dispatched by US President Donald Trump to allay fears over the newly announced US withdrawal from Syria.
"Tomorrow, if whether permits, we will go up to the Golan Heights, it is tremendously important for our security. When you are there, you'll be able to understand perfectly why we will never leave the Golan Heights and why it is important that all countries recognize Israeli sovereignty over the Golan Heights...Welcome friend," the prime minister said.
The Golan Heights, a plateau on the Syria-Israel border, was captured from Syria during the 1967 Six-Day War, and effectively annexed by Israel in 1981.
Netanyahu also thanked the US for its unequivocal support of Israel.
"Your visit has given us an opportunity to do two things," Netanyahu said to Bolton. "First, it has given us an opportunity to thank the Trump administration for their extraordinary support. Secondly, the president decided to recognize Jerusalem as Israel's capital and moved the embassy to Jerusalem—a historic decision which we welcome."
"Third, you've unequivocally backed Israel at the United Nations, which is deeply appreciated by Israelis around the world. You have backed both in words and deeds Israel's right to defend itself," he added.
As expected, Bolton conveyed the message that the United States has strong ties with Israel, claiming it's "the best US-Israel relationship in our history."
"We've got the continuing threat of Iran's quest for deliverable nuclear deal, and despite getting out of the Iranian nuclear deal and despite the sanctions, we have little doubt that Iran is strategically committed to achieving deliverable nuclear weapons, United States and Israel are strategically committed to making sure that doesn't happen."
U.S. National Security Advisor John Bolton at the Western Wall
As for Washington's decision to pull all its troops from Syria, Bolton said he intends to discuss this issue further, but was confident that the U.S. administration will continue to protect Israel in the process.
"We will be discussing the president's decision to withdraw and but make sure IS is defeated and…. make sure the defense of Israel and our other friends in the regions is assured," he said.
"Trump backs Israel's right to self defense; he says it publicly and unequivocally. Any nation...that has any doubt about American support for Israel's self defense— it better think about it again," he added.
Netanyahu and Bolton at a press conference, January 6, 2019 (צילום: אלי מנדלבאום)
The pullout announced before Christmas was initially expected to be completed within weeks, but the timetable has slowed as the president acceded to requests from aides, allies and members of Congress for a more orderly drawdown.

Israeli officials have expressed alarm that a swift withdrawal of the roughly 2,000 troops could enable Iran to expand its influence and presence in Syria, wracked by a yearslong civil war and the Islamic State militancy.
In addition, Trump's move has raised fears about clearing the way for a Turkish assault on Kurdish fighters in Syria who have fought alongside American troops against IS extremists. Turkey considers the Kurdish People's Protection Units, or YPG, a terrorist group linked to an insurgency within its own borders.
Bolton warned Syria's president, Bashar al-Assad, not to use the U.S. drawdown as a pretext to use chemical weapons against Syrians, saying there is "no change" to the U.S. position that their use is a "red line." Trump has twice carried out airstrikes in Syria in response to apparent chemical attacks, with the intention of deterring Assad.
Trump's announcement about the intended troop withdrawal was greeted by surprise and condemnation from many U.S. lawmakers and allies, and prompted the resignation of Defense Secretary Jim Mattis and the U.S. special envoy for the anti-IS coalition in protest.
Secretary of State Mike Pompeo is following Bolton to the Mideast this coming week for an eight-country tour of Arab allies to shore up support for the administration's partners in the region. Before leaving for the Mideast, Pompeo said that them the administration has cultivated a relationship between Arab states and Israel in order to ensure a coalition to secure American security.
"The previous administration decided that the biggest terror supporter in the world, Iran, would be its partner in the Middle East. We have categorically changed that... You heard the president's declaration about the withdrawal from Syria, but with the help of our partners we will still be able to effectively combat the ISIS threat in the region and do it without the presence of 2,000 troops on the ground," he said.