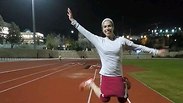 Bracha "Beatie" Deutsch, 29, a ultra-Orthodox mother of five from Jerusalem and the new athletics sensation in Israel, on Friday claimed first place in the Tiberias Marathon, weeks after winning Israel's National Half Marathon Championship.
"At the beginning of the run, I didn't believe I would win. Elena Dolinin, Israel's former record holder, was considered a safe bet. When I passed her during the race, she wished me luck and congratulated me," says Deutsch.
"Throughout the race, I had great confidence in my abilities since God guided me every step of the way," she says.
Dolinin, who completed the race with an injured ankle, finished second.
This was Deutsch's fourth marathon run. Her win is an incredible achievement for an athlete who only started training three years ago. She even completed one of her previous runs, the Tel Aviv Marathon, while seven months pregnant.
Deutsch, dubbed "Speedy Beatie" by her friends, showed great promise at the Tiberias Marathon. Finishing the race in two hours, 42 minutes and 18 seconds, she claimed the 5th spot for Israel's all-time female marathon runners.
Her result met the 2016 Olympics' entry requirements, but the requirement has since been updated, and in order to compete in the 2020 Olympics in Tokyo she needs to finish the race in two hours and 36 minutes.
Two weeks ago, Deutsch confessed she dreams of the Olympics. "I have patience," she said. "I've only been running for three years." Now, having won the Tiberias Marathon, her dreams are beginning to take shape.
"From now on, I could certainly devote more time to training in order to improve my score. I think my dream of becoming the first female ultra-Orthodox Olympic champion might be possible," she says.
While competing in her previous race, the National Half Marathon Championships, Deutsch's husband Michael, a yeshiva teacher and computer science student, stayed home to watch over their children. This time, the entire Deutsch family came to watch her cross the fine line.
To promote a good cause, her children even wore special t-shirts to the event with the caption "Daniella's Den"—a recovery day center, named after Deutsch's cousin, which provides assistance for young people struggling with mental health issues.
The Israeli Athletics Association has finally begun to take notice of the young runner, and is now discussing the possibility of assisting Deutsch with training that can push her to the next level. Industry experts are convinced that she has enough talent to make it big internationally.
Born in New Jersey, Deutsch immigrated to Israel eight years ago. In addition to raising five children, she also works full time as a liaison for "Olami" international Jewish organization, and trains with coaches Etti and Yoram Einar at the Second Wind Running Club.
When asked if there's a contradiction between being Haredi and being an athlete, Deutsch replied: "As far as I'm concerned, if Gd gives you the talent, you have to do something with him, and I have a talent for running."
At the medal ceremony, Deutsch climbed onto the podium wearing her traditional sports uniform— a skirt, a long-sleeved shirt and a head scarf. She smiled, posed for a few pictures, and then quickly drove back home to prepare her home for Shabbat.