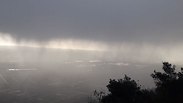 Stormy weather in northern Israel
Photo: Anat Zisovitch
As the storm system that hit Israel at the beginning of the week enters its final stage, the cold temperatures plummeted Wednesday to this winter's record low. Nearly a meter of snow has accumulated on Mt. Hermon and the water levels in the Sea of Galilee have risen by at least 19.5 cm over the past 48 hours, according to meteorological services.

The waterline in Sea of Galilee currently stands at -214 below sea level and 1.10 meters (3.6 feet) below the lower red line (the intermediate warning signal indicating a crisis).

Snow on Mt. Hermon (צילום: אתר החרמון)

The water level keeps rising due to the strong currents of the rivers flowing into the northern freshwater lake. In some areas of the Jordan River, the streams reached the speed of up to 100 cubic meters per second, a five-year high.

Although precipitation over Israel is mostly concentrated over the northern parts of the country, intermittent rainfall is expected in central and southern Israel all throughout Wednesday, raising fears over possible floods in eastern and southern rivers.

Stormy weather across Israel (צילום עידו ארז | עמיר אלוני, רשות הטבע והגנים | ג'ק פישר)

The southwest winds in the Mediterranean Sea will reach speeds of up to 50 kph (31 mph), while the height of the waves could reach of up to 5 meters (16 feet).

Meanwhile, management at the Mt. Hermon ski site said it has been years since they recorded uninterrupted snowfall that continued for three days straight, with some 90cm hitting the mountain's lower parts so far. Although the site is currently closed—due to foggy and misty conditions—its ski trail is expected to open its doors to skiers for the first time this winter over the coming weekend.

The Israel Electric Corporation said the stormy weather caused the electricity consumption to hit 12,592mw, slightly less than an all-time record back in January 2016, when the consumption numbers stood at 12,624mw.

The storm is expected to taper off by by the end of the week with partly cloudy skies and temperatures returning to average by Friday. On Thursday the weather is expected to be dry and mild, with a slight rise in temperatures.