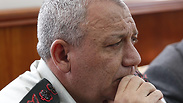 IDF Chief of Staff Gadi Eisenkot
It was a weekend of revelations. Outgoing IDF Chief of Staff Gadi Eisenkot, in his farewell interviews, finally confirmed that the Israeli army has attacked thousands of targets in Syria. On Sunday, the prime minister revealed that Israel was responsible for the Friday night attack in Damascus. This is a calculated move. The Israeli decision to end the ambiguity of its attacks in Syria is based on events in Iran itself, where a lively debate has been going on for almost a year about the extent to which the Islamic Republic should involve itself in conflicts outside its borders – conflicts that also mean huge expenditure.

The supporters of Iranian interference throughout the Middle East —including assistance to Hezbollah, the Palestinian Islamic Jihad and Hamas —are the conservative ayatollahs and members of the Revolutionary Guards. This group also includes Qassem Suleimani, the head of the elite Quds Force within the Revolutionary Guards, who is directly subordinate to the Supreme (spiritual and political) Leader Ali Khamenei. The supreme leader supports Suleimani's actions and approves budgets for exporting the Islamic revolution, which is the mission of the Quds Force.

Iranian opposition to military operations and insurgent activity abroad includes President Hassan Rouhani and a distinguished group of ayatollahs who support him, among them Iranian conformists. Rouhani argues that Iran needs to focus on military developments and preparations for confrontations that would strengthen Iran strategically, on the condition that these activities take place within Iran's borders and not outside them.

This Rouhani-led camp further argues that the entire enterprise of building a main radical axis — including the militias in Iraq, Hezbollah in Lebanon, and the Palestinians —is not only a waste of time, but diverts resources needed to bolster real Iranian strategy.

As such, Rouhani supports Iran's ballistic missile program and in principle the military nuclear program, but demands a drastic downsize of the involvement in Lebanon, Syria, Iraq, the Gaza Strip and the West Bank. Due to Rouhani's opposition to these activities, the budgets allocated to Hezbollah, Hamas and Palestinian Islamic Jihad have been reduced, especially after the American sanctions imposed by US President Donald Trump came into effect. These sanctions, which are down to Trump's decision to abandon the Obama-brokered nuclear agreement, include, inter alia, a partial ban on Iranian oil exports as well as on global financial and commercial dealings with Iran.

It is important to note that this internal debate is a major factor in why Israel suddenly chose to end the ambiguity over its operations against Iran in Syria, the transfer of high-quality weapons to Hezbollah, and the advancement of precision missiles and rockets in Syria and Lebanon.

In an interview with The New York Times, the outoging chief of staff Gadi Eisenkot said that Israel had carried out thousands of such attacks, most of them from the air, and others by special units and surface missiles. Prime Minister Benjamin Netayahu repeated this message in the weekly cabinet meeting on Sunday, partly perhaps because Israel wants to make sure that the Iranian leadership is fully aware of the losses and damage they are suffering in Syria under Suleimani, and of the resources they have expended in vain trying to entrench themselves there.

Israel has an intelligence and aerial advantage in the region, and this led to Suleimani's inability to set up shop in Syria. In fact, he wasted tens or even hundreds of millions of dollars on this adventure. None of that has harmed his standing in Iran, however, which is still allowing him to continue his plans to make Iran and Shiite Islam the true powerhouse in the Middle East.

Iran has already cut some of its budgets to foreign proxies, including Hezbollah, and the debate inside the country goes on. Israel meanwhile, is trying to show the all different Iranian camps what the truth is. Israel has an interest in making Iranians understand that these efforts by Suleiman — which Israel has foiled in recent years — cost huge sums, something that is terrribly lacking in the welfare of the people.

As such, Israel decided that it was time to end its policy of ambiguity so that Iranians will finally know why senior Revolutionary Guards officials are coming home in coffins.