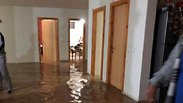 Floods strike throughout the country
Heavy rains caused floods across Israel's north on Monday, stranding two cars mid-stream and damaging property in several regions.

The two cars were caught in a flood in the Hilazon stream, in which an IDF soldier drowned last Monday during navigation practice, and drivers had to call for rescue. The local fire department used a crane in order to reach the drivers, who were stranded on the roofs of their cars.

Floods in the Hilazon Stream (צילום: דוברות המשטרה, כבאות כבאות והצלה מחוז צפון)

Floods strike throughout the country (צילום: שי אמרוסי, כבאות והצלה צפון)

Several roads were also blocked due to floods, including Route 90, a main artery that connects the southernmost city of Eilat and Kiryat Shmona in the very north. The Route 90 flooding also struck close to the northern city of Tiberias when the Arbel River overflowed due to heavy rain.

Several other northern communities in the Galilee suffered floods, including Acre, Sakhnin, Kabul and Tamra, which all suffer from poor infrastructure. Main roads turned into rivers and flooded property, causing a mother and her two children from the city of Arraba to be stranded in their flooded home. Rescue forces took brought them to safety.

While northern regions experienced the heaviest rainfall, Israel's south experienced only light rains. However, according to Nahum Malik from the Meteo-Tech meteorological organization, areas are flooding regardless of the amount of rainfall due to an oversaturated water table after the recurrent storms of the past few weeks.

On the Golan Heights, reservoirs for agricultural use reached up to 50 percent capacity, while Mt. Hermon once again saw snowfall and is expected to open for skiers and snowboarders for the first time this year once the stormy weather subsides.

The inclement weather also reached the center of the country, which was hit by fog, heavy winds and rain. In the Negev Desert, residents were bracing for sand storms, which were also felt in Tel Aviv. Winds gusts in the Mediterranean Sea are expected to reach 60 kilometers per hour, while waves measured between 200-400 centimeters.

The stormy front is expected to continue into Wednesday, and snowfall in northern peaks could expand to the Jerusalem region. Waves in the Mediterranean are expected to reach 400-800 centimeters, with wind speeds of up to 90 kilometres an hour.