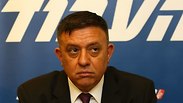 Avi Gabbay
Photo: Abigail Uzi
Three Labor MKs said Wednesday that they will not be running in the party's primary elections, in a scathing criticism of chairman Avi Gabbay.

MK Ayelet Nahmias-Verbin was the first to announce she won't be running for reelection, saying the party that was a home to her "is not the same home."

Several hours later, MKs Eitan Broshi and Yehiel "Hilik" Bar also said they were leaving the party.

"The Labor Party's current situation worries me very much, and there is concern it will not be able to return to leading the country," Broshi said.

Broshi was recently embroiled in political scandal when he touched Nahmias-Verbin's behind during a field trip the party was on. He later apologized to Nahmias-Verbin and the two agreed to put the incident behind them.

After the party received a letter from another complainant who claimed Broshi had sexually harassed her 15 years ago, Gabbay suspended the MK and demanded his resignation.

"I've spoken to MK Broshi and informed him of his immediate suspension from party activity, and demanded him to take responsibility for his shameful acts and resign from the Knesset. Sex offenders don't have a place on the street or in the Knesset," Gabbay said at the time.

Broshi, in response, filed a civil lawsuit against Gabbay for libel.

"I can't ignore the grave and irresponsible comments the party chairman made against me, comments for which the judge harshly criticized him in a hearing held as part of my libel suit against him," Broshi said on Wednesday.

MK Hilik Bar said that while he would not be running in the upcoming primaries, "I'm not leaving the party or public life, on the contrary. I'm staying in the party. And just like I've been doing from childhood, I will work for the success of the party in the coming elections."

Gabbay himself was not concerned by the three MKs' decision not to run for reelection. "4,600 new voters registered for the party over the past month, some 40 new candidates will run in the primaries," he said. "I wish Ayelet, Hilik and Eitan luck, and I'm glad for the renewal in the party as new men and women of action join it. Together we will change the country."