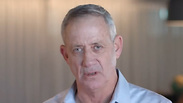 Benny Gantz
Photo: Israel Resilience Party
Former IDF chief of staff and the leader of the Israel Resilience Party Benny Gantz on Thursday launched his election campaign, unveiling his "Israel Before All" slogan. Gantz is widely seen as the biggest threat to Prime Minister Benjamin Netanyahu's reelection in the parliamentary elections to be held on April 9.

"For me, Israel is before everything else. Join me as we embark on a new path, because things must change and we will change them," Gantz said in a video published on Facebook. The video ends Gantz's long-standing ambiguity on his political positions.

"I think I've said too much," he quipped, in reference to his much-discussed silence.

The cmapaign appears to refer to Gantz's credentials as a military powerhouse: The background to the slogan lettering is the same olive green as IDF uniforms, while the wording itself ends with a white Star of David, which appears on the Israel Air Force insignia.

A new poll by the Israel Television News Company shows Gantz's party would gain 13 Knesset seats in the 120-seat parliament on April 9, while Netanyahu's ruling Likud party would take 32 seats, and Yair Lapid's Yesh Atid party would earn 14 seats.

The once-powerful Labor party would win just 9 seats, down from the 24 it currently holds as part of the Zionist Union. Labor leader Avi Gabbay made waves earlier this month, however, with his shock announcement that he was ending Labor's three-year partnership with Tzipi Livni and her Hatnua party. On Thursday, three Labor MKs announced they would not be running in the upcoming elections, seen as a direct expression of dissatisfaction with Gabbay.

On Monday, Gantz made his first and only political statement, promising to work to amend the controversial Nation-State Law to make it more inclusive for the country's minorities.

"I will do all in my power to work to amend the legislation, so it will give expression to this bond, the deep bond that cannot be severed—not just in battle, but also in life; not just in difficulties, but also in good times. We'll do this together," he said.

Meanwhile, Lapid published a video on social media in which he is seen shredding a series of laws passed by the coalition if he is elected, with the caption "What they have ruined, we'll fix."