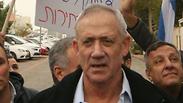 Benny Gantz
Photo: Motti Kimchi
Everyone's blue-eyed boy: Reflections on the elections
Opinion: Benny Gantz seems to have laid out his political stall with his comments on the Nation-State Law and his choice of allies, and while the right is determined to brand the former IDF chief as a weak leftist, he is discovering that there is no such thing as bad publicity — at least in the short term.
Anyone who talked to Benny Gantz the day after he made his first political statement, got the impression the man is in low spirits. The 20th IDF chief of staff and the most intriguing candidate of Israel's 2019 elections had hoped for a different outcome with the launch of his political campaign.

The 49 seconds outside his home were meticulously planned, even days in advance, but their damage far exceeded their value. In order to understand why, first we need to understand Gantz's dilemma over the past few months: Should he turn to the right — to Likud and Kulanu voters, or to the left —to Yesh Atid and Zionist Union voters?

In normal elections, the answer would be clear — he should turn right with all his might. This way, Gantz could both smash the right-wing bloc and also win over opposition voters who saw him as the next Israeli prime minister. Surely this would work for 6′5″ blue eyed former military leader.

But these are not normal elections. There are a host of would-be prime ministers —Yesh Atid leader Yair Lapid, Hatnuah leader Tzipi Livni, Labor Party head Avi Gabbay, Gesher leader Orly Levy-Abekasis and Telem chair Moshe Ya'alon— all competing for the same votes. First, Gantz must fight to build his own his base, for if he breaks right looking for success, he could end up losing on both sides of the spectrum.

Gantz's long silence indicated a strong desire to keep his momentum going and maintain relatively high levels of support while avoiding political statements that might alienate any part of the public. But with hindsight, the power and duration of Gantz's radio silence went too far - public expectations rocketed and Gantz lost his momentum.

From what we can gather from Israel Resilience Party, Gantz decided to build his base first, and it seems to be left-leaning. So far, he has approached Alon Schuster, the head of Sha'ar HaNegev Regional Council and a former Zionist Union member; Chemi Peres, the son of the late president and Labor leader Shimon Peres; Asaf Zamir, the deputy mayor of Tel Aviv who holds leftist views; and Yeruham Regional Council Head Michael Biton and religious Zionist activist Chili Trooper — both former members of Labor.

The statement Gantz made about changing the Nation-State Law was supposed to be the launch of his political campaign. It is clear what he wanted: a photo op with Druze leaders, who head of one of the most popular communities in Israel. So he said a few things about the importance of the community and showed willingness to support it. But his choice of words was weak and ambiguous: it's unclear if he wants to amend the law or legislate a new one.

More problematic were the responses to Gantz's statement: Gabbay, Livni, Lapid, and even Meretz leader Tamar Zandberg all welcomed Gantz's declaration. Some were eager to ensure a place on his Knesset list, while others were keen to remind everyone that they too opposed the controversial law. Either way, instead of bridging the divide between Right and Left, Gantz's words placed him squarely to the left of the political map.

"Israel Before All", Gantz's new slogan, as well as the 20-second video he posted last week, serve as an introduction to his next dilemma: Should he establish a coalition with Prime Minister Benjamin Netanyahu? Gabbay is trying to convince him otherwise while Likud members dissect his every word in an effort to label him as a leftist. In short, it's a holy mess.

Gantz, meanwhile, can take comfort in the levels of interest he has received. The election campaign of 2019 is not about shaping minds but about infiltrating them. When Gabbay publically shamed Livni, polls showed she could single-handedly win five Knesset seats. Two weeks later, she was history. Similarly, Finance Minister Moshe Kahlon of Kulanu and MK Levy-Abekasis of Gesher have also lost momentum at the polls.

Until further notice, there's no such thing as bad publicity in this election run.