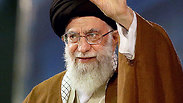 Iranian Supreme Leader Ayatollah Ali Khamenei
Photo: AFP
The head of Iran's air force said Monday that Iran was impatient to fight Israel and destroy it in retaliation for the Israeli attack on Iranian weapon facilities in Syria, said state-linked news website.

"The young people in the air force are fully ready and impatient to confront the Zionist regime and eliminate it from the Earth," Brigadier General Aziz Nasirzadeh was quoted as saying by state-linked the Young Journalists Club news agency.

The comments came hours after Israeli warplanes launched a massive early-morning attack on Iranian targets in Syria and a day after Iranian fighters fired a surface-to-surface rocket at the northern Golan Heights. The Israeli bombardment, which targeted an airport in Damascus, killed at least 11 pro-regime fighters, said the Syrian Observatory for Human Rights, a UK-based monitoring organization.

The IDF said the air bombardment was "a direct response to a surface-to-surface rocket—intercepted by the Iron Dome aerial defense system—launched by the Quds Force from Syrian territory at the northern Golan Heights on Sunday."

The Quds Force spearheads the Iranian Revolutionary Guards overseas operations.

According to Russian sources, the Syrian military's air defenses destroyed more than 30 cruise missiles and guided bombs during the Israeli air strikes. The strikes killed at least 11 pro-regime fighters, said the Syrian Observatory for Human Rights, a Britain-based war monitor, making the Israeli raid the deadliest in months.

The IDF confirmed its jets came under fire from anti-aircraft missiles during the raid, prompting the military to strike Syrian defense batteries.

In an official statement, the IDF Spokesperson's Unit said munition storage sites, a site located in the Damascus International Airport, along with an Iranian intelligence site and an Iranian military training camp, had also been targeted.

Monday's overnight strikes followed cross-border attacks on Sunday in which Syria said it repelled an Israeli air attack. Israel said it intercepted the rocket fired at the Golan Heights, aimed at a popular ski site on Mount Hermon.

"We have a permanent policy, to strike at the Iranian entrenchment in Syria and hurt whoever tries to hurt us," Prime Minister Benjamin Netanyahu said Sunday.

The prime minister and former IDF chief Gadi Eisenkot recently confirmed that Israel had carried out hundreds of attacks in Syria, in an effort to curtail Iran and its Lebanon-based ally Hezbollah.