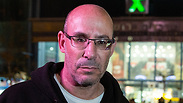 Asher Elmaliach
Photo: Alex Kolomoisky
Security guard who stopped terrorist: A knife in the heart can't defeat me
Asher Elmaliach, who was stabbed preventing Yassin Abu al-Qara'a from entering Jerusalem Central Bus Station in December 2017, will testify against his attacker, and tell the judges: 'Justice can only be done is if this villain rots in prison for the rest of his life.'
Asher Elmaliach, a security guard who stopped a terrorist from entering the Jerusalem Central Bus Station in December 2017 and was seriously wounded in the process, will face his attacker for the first time on Tuesday. Not only did Elmaliach stop the terrorist, he was stabbed in the heart in the process, and according to witnesses, pulled the knife out himself.

On December 11, 2017, Yassin Abu al-Qara'a, a resident of the village of Taluza near Nablus, arrived at the Jerusalem Central Bus station to carry out an attack to avenge US President Donald Trump's declaration recognizing Jerusalem as Israel's capital, according to the indictment filed against him.

Al-Qara'a decided to murder as many Jews in Jerusalem as he could, get killed in the attack, and become a martyr in order to "defend Jerusalem and the al-Aqsa mosque," the indictment states.

He was charged with attempted murder as an act of terror, as well as with illegally entering Israel.

Elmaliach, who was stabbed in the heart by al-Qara'a, will also attend Jerusalem District Court on Tuesday to testify against his attacker.

"I've had a very difficult year since that knife penetrated my heart and changed my life," said 47-year-old Elmaliach during a return visit to the Central Bus Station. "Since the attack, I've been suffering from anxiety—looking at who is behind me, turning around to make sure no one is trying to surprise me."

"I come here with difficult emotions, with blurry images running through my head. Part of what happened I only know from what I was told. People who were there told me I pulled out the knife myself," he said.

Stabbing attack as caught on security camera

Elmaliach said he will be in court to demand justice, not just for himself, but for many other victims of Palestinian terrorism. "I'm glad for this meeting," he said. "I will look him in the eyes and tell him: 'Not knives, not guns, not exploding buses—no nightmare on Earth is going to defeat me. This is our country."

He will tell the judges that, "To ensure we are not surrendering to terrorism, there must be a just trial, and the only justice that can be done is if this villain rots in prison for the rest of his life.

"People like Yassin Abu al-Qara'a—who come to take lives—have no right to life, they have no right to see the light of day. Thank God, I came out of this attack alive. I personally experienced a miracle. But throughout the history of the state, we saw the heavy price terrorism has exacted from us, and it is in the court's power to decide that this murderer and other terrorists like him rot in prison for the rest of their lives."