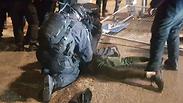 Police arrest one of the rioters
Photo: Itay Blumenthal
Thousands of Ethiopian protesters peacefully demonstrated for six hours on Wednesday afternoon and evening, but the demonstration was sullied in its final part when dozens of people rioted—throwing stones, shattering car windows and burning trash cans.

Eleven protesters were arrested, while six police officers and one civilian woman were lightly hurt in the clashes.

צילום: דוברות המשטרה

Protest organizers said horse mounted police officers "began a violent dispersal of the protest" near the Arlozorov Train Station. "The police officers also blocked the entrance to the train station and would not allow us to go home," the organizers said.

The protest was sparked by the killing of Yehuda Biadga, 24, by police in Bat Yam two weeks ago as he was waving a knife. Witnesses say the youth posed no direct danger to the lives of the officers. The incident is still being investigated.

Biadga's brother-in-law, Hagos Ubo, who returned his uniforms to the police last week after volunteering there for years, lamented the rioting. "It's very unfortunate that it happened. It pains me when there is stone throwing. It's a shame, because now these people will have criminal records," he said. "I left the square when everything was peaceful. Our protest will continue. There will be more demonstrations. We won't be silent after one demonstration."

During the clashes with police, dozens of protesters knocked over tables at an ice cream parlor on Ibn Gabirol Street and later rioted on Arlozorov Street. They shattered side mirrors of parked cars, threw glass bottles on the road and hurled stones at stores and buses.

In addition, masked protesters also burned trash cans, knocked over motorcycles and vandalized fences. They also shattered the windshield of a vehicle was the driver, a woman, was inside.

צילום: איתי בלומנטל, דוברות המשטרה

Police officers had to block the entrance to the Lev Tel Aviv police station and the Arlozorov Train Station with their bodies.

The Israel Police said that it "allowed the protesters to express their freedom of speech and their right to protest, while using great restraint, despite blatant provocations done by some participants. Unfortunately, when the demonstration ended, a handful of protesters chose a way of violence, attacking and wounding six police officers, vandalizing property and disrupting the public order by throwing stones, bottles and other objects."

צילום: ליהי קרופניק, אמיר אלון, דוברות המשטרה

"I feel terrible, absolutely horrible," said Rachel Gil Yosef, one of the protest organizers. "I'm shocked and frightened. A mounted officer came running in my direction, and I was sure he was about to trample me. There were children there."

"There was a point when we wanted to leave, and we were blocked. We started this well, and we ended it well. It's true that there were rioting, and it's the police's job to stop them, but we went into the field to moderate it, to take people and direct them to go home. Our Kesses (religious leaders in the Ethiopian community) went into the field and did everything to make the youth go home. But there is a disproportional balance of power here: there are YASAM forces (riot police) that look like they're going to battle," she said.

Ronit Horowitz, who participated in the demonstration, also accused the police of disproportional response. "Protesters came here after Rabin Square to express their pain. There was some stone throwing, I won't say there wasn't, but the police response was unbelievable. There were hundreds of YASAM police officers, all with shields and helmets, who simply trampled the protesters who, at that moment, were not doing anything. It's like throwing an atom bomb into a small event," she said.

"This is a community in pain because one of them was unjustly shot, and tomorrow to add insult to injury they will all be portrayed as violent. But the violence was not from that side, it came from the police officers. I knew there was police violence, but not to this extent," she said. "I'm on the good side of the profiling—a white Ashkenazi woman—so I wasn't trampled. I don't even want to think about police treatment of those who were arrested."