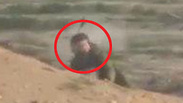 Footage of IDF officer being shot
The Iranian-backed Palestinian Islamic Jihad released footage Sunday showing an Israeli officer being shot in the head by a Palestinian sniper during violent clashes on the Gaza border two weeks ago.
The officer, a company commander in the Paratroopers Brigade, was only lightly wounded, with his life being saved by his helmet, which stopped the bullet.
By releasing the video, the terror group has effectively accepted responsibility for the incident, which the IDF has already blamed on Islamic Jihad. The IDF Spokesperson's Unit declined to comment on the video.
Footage of IDF officer getting shot by militants
Islamic Jihad spokesman Daud Shehab said the release of the video is meant "to expose some of the daily Israeli violations of the most basic human rights." He was referring to the fact that before he was shot, the IDF officer is seeing firing at Palestinian protesters, whose role was to create a diversion by hurling stones and trying to breach the security fence.
In response to the shooting of the officer, an IDF tank shelled a Hamas military position near the security fence along the Gaza frontier, killing at least one person and wounding two others. Hamas later confirmed the three Palestinian casualties as its members.
Prime Minister Benjamin Netanyahu said Sunday that if the situation along the southern border continues to be volatile, the government will respond with force "even during the elections period."
"Over the weekend, we began building the above-ground barrier along the Gaza border. The barrier will prevent terrorists from Gaza from infiltrating our territory on the ground," said the prime minister.
Netanyahu also delivered a public warning to Iran, which on Saturday displayed a new cruise missile with a range of 1,300 km (800 miles) during celebrations marking the anniversary of the 1979 Islamic Revolution.
"Iran openly declares its intention to destroy the State of Israel. I have a clear message to the tyrants of Tehran: We know what you are doing and where you are doing it. We will continue to take action against Iran with all the tools at our disposal in order to ensure the security and future of Israel," Netanyahu said.