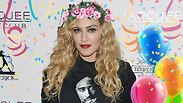 Madonna
Photo: Gettyimages
Israeli-Canadian billionaire Sylvan Adams has agreed to foot the bill for pop diva Madonna's performance at the 2019 Eurovision Song Contest, which will be held in Tel Aviv this May.

The 59-year-old billionaire and his business partner Danny Ben Naim were approached a few months ago by the Israel Public Broadcasting Corporation (IPBC), which will air the Eurovision, and the show's production, Bluestone Group, but had said they would only help once there is a concrete deal on the table.

In recent weeks, the IPBC resumed talks with the two businessmen, and "after much deliberation, Adams gave the green light to funding Madonna's performance at the Eurovision Song Contest," said a source familiar with the details.

Adams will be footing the bill for the singer's appearance on his own, rumored to be around $1 million. According to the source, significant progress has been made over the past two days in talks between Adams' representatives and Madonna's management. "She is expected to sign the contract in the coming days," said the source.

"We are holding round-the-clock negotiations with Madonna's people," said Danny Ben Naim, CEO and owner of the COMTEK Group, who often collaborates with Adams on business projects.

Adams, a Jewish billionaire who made aliyah to Israel from Canada in 2015, is considered one of Israel's most enthusiastic philanthropists and donors.

Over the past year, Adams brought the Giro D'Italia bicycle race to Israel—one of the biggest sporting events to ever take place on Israeli soil. In addition, he has been working on establishing a cultural foundation that would bring world-renowned artists to Israel to elevate the Jewish State's status in the eyes of the international community.

"Adams believes that the participation of an artist like Madonna in this year's show will significantly increase the exposure and media coverage of the Eurovision Song Contest itself and the corresponding events … as well as of the wonderful people and beauty of the State of Israel," said Ben Naim.