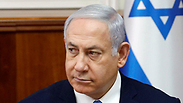 Prime Minister Netanyahu
Photo: Reuters
Netanyahu: Abbas is happy with Gantz comments
Prime Minister Netanyahu says former IDF chief Gantz 'said he will carry out a second disengagement in Judea and Samaria' in Yedioth interview, 'and Mahmoud Abbas wished him luck in the elections'; Gantz to Netanyahu: 'You expelled Jews. You paid protection racket to Hamas. Your time is up.'
Prime Minister Benjamin Netanyahu criticized Israel Resilience Party leader and Benny Gantz, saying the former IDF chief "said he will carry out a second disengagement in Judea and Samaria, and Mahmoud Abbas wished him luck in the elections."

In a message to Likud members after the announcement of the results in the party's primary elections, Netanyahu called on voters ahead of the April 9 general elections "to come together, to win this elections, and to prevent this from happening. This is the true essence of the elections: a left-wing government headed by Benny Gantz or a Likud government headed by me."

Responding to Netanyahu, Gantz said, "You expelled Jews. You paid protection racket to Hamas. Your time is up, we're moving forward," referring to Netanyahu's votes in favor of the Gaza Disengagement in 2005 and the Qatari money the Netanyahu government has agreed to allow into the Gaza Strip in recent months.

In an far-ranging interview with Yedioth Ahronoth, his first to the Israeli media since unveiling his campaign last month, Gantz said that Israel needs "to find a way in which we're not controlling other people."

Regarding the evacuation from Gaza, the former IDF chief said: "It was a legal move, a decision made by the Israeli government and carried out by the IDF and the settlers in a painful, but good manner. We need to take the lessons learned and implement them elsewhere."

Palestinian President Mahmoud Abbas's spokesman Nabil Abu Rudeineh cautiously welcomed Gantz's statements, saying "It's encouraging, if he succeeds and he sticks to this opinion."