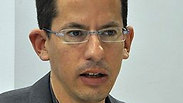 Somewhere on the margins between the conscious and subconscious, Israel recently watched – and did not watch – two short video clips.

The first clip – the one we watched – was the election campaign spot produced by Benny Gantz, leader of the newly formed Hosen LeYisrael party (Israel Resilience Party), with its much-mocked slogan: "No more right-wing or left-wing; it is just Israel first."

The second clip – the one we didn't watch – was recorded on the phone of a soldier in the Netzah Yehuda Battalion of the Kfir Brigade. In it, Israeli soldiers filmed themselves abusing two Palestinian detainees, a father and son. The son was forced to watch as the soldiers broke his father's ribs.

Well, that's certainly one clip we'd rather not watch: images of soldiers mocking and beating a father and son. Who would want to see something so horrific? Or to hear it, for that matter: did the soldier's smartphone also record the son's voice crying out his father's name? Did it capture the sound of the father's ribs breaking, one by one?

No question about it. It's certainly much nicer to watch Gantz's video clips. The footage shown of the Israeli airstrikes on Gaza in Operation Protective Edge has no soundtrack. We don't hear the whistling of the smart bomb as it rams into a building, crushing it and wiping out a family. And another family. And another. Over five hundred teenagers, children and infants gone just like that, in surgical silence. Elegant, is it not?

Somewhere on the margins between the conscious and subconscious, between the seen and the unseen, that is more or less where the Israeli political debate takes place. There is not much wiggle room there, but it is just enough to allow most Jewish citizens of Israel to agree among themselves to continue ruling over the Palestinians, inevitably by force. However, Israelis do not wish to see themselves as brutal. In other words, they are left shuffling back and forth between the video by the soldier from the Kfir Brigade and Benny Gantz-style clips. If only it could always be Benny Gantz. But, now and again, an Elor Azaria pops out of the woodwork of the collective subconscious. Anything but elegant.

Gantz's video clip is so simplistic it is embarrassing. But it embodies a clear truth, that there is an across-the-board consensus for Israel to retain control over its Palestinian subjects in the Occupied Territories. So Gantz – with whom Yair Lapid, Naftali Bennett, Avi Gabbay and all the rest can easily feel at home – can be a legitimate alternative to Benjamin Netanyahu. Because even if the chess pieces are played so that the king is ceremonially castled, the foundations of the kingdom will remain unchanged. A so-called change such as this, which would replace the head while keeping the body intact, is one that Israelis might perhaps countenance.

The domestic debate rages on within the narrow confines of this consensus. General Eisenkot, Gantz's successor as chief of staff, might perhaps say of the Kfir Brigade soldiers that they were following "a gang ethos," as he had said with regard to the Elor Azaria affair. Heaven forbid, anything but gangs! But what of the artillery and air strikes on Gaza neighborhoods? What about soldiers shooting fleeing Palestinian teens in the back? What about all the other routine horrors that take place strictly according to orders? That's all legitimate. There's nothing gang-like about it at all. Nice and elegant.

Elegant? How is this any different from the "victory plan" launched by the proudly inelegant MK Bezalel Smotrich, Deputy Speaker of the Knesset? As the newly anointed head of the National Union party said, "à la guerre comme à la guerre," even for women and children. Five hundred of them, and more if needs be.

The opposite of the "gang ethos" is not a real concept but a psychological one. It does not, nor can it, exist in the real world. Because in real life, in order to go on ruling the Palestinian people – a nation struggling for its life, land and liberty – Israel must continue to send its military to kill Palestinians, as need be, in order to suppress them. À la guerre comme à la guerre, per Smotrich.

So how can the gang ethos be vanquished? Well, that is an inside matter, a psychological process among Israelis. Let's not watch that video of the Kfir soldiers. But if we do, let's remember that the offending soldiers will be prosecuted and that they are the exception. Just like Elor Azaria was an exception. If we have any qualms, let's remember that he was convicted and even spent a few months in jail. We're a law-abiding country, after all!

Let's stay in denial. Let's really and truly believe that we're choosing Gantz. We most certainly would not elect Smotrich. After all, as Gantz's campaign spot concludes, we wouldn't want a generation to grow up here without hope, now would we?

The author is the Executive Director of B'Tselem.