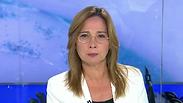 Oshrat Kotler
Photo: Channel 13
TV presenter comes under fire for dubbing IDF soldiers 'animals'
After airing story about Netzah Yehuda soldiers charged with abusing Palestinian detainees, journalist Oshrat Kotler says 'We send the kids to the army, to the territories, and we get "animals." This is the result of the occupation'; her comments were harshly criticized by the soldiers' parents and politicians on the right.
Journalist Oshrat Kotler came under fire on Saturday for saying IDF troops were "animals" after airing a story about soldiers from the Netzah Yehuda Battalion who have been indicted for abusing Palestinian detainees.

"We send the kids to the army, to the territories, and we get 'animals.' This is the result of the occupation," said Kotler after the story had aired on Channel 13 News' "Magazine" show.

Prime Minister Benjamin Netanyahu came out against Kotler, saying he was "proud of IDF soldiers and loves them very much. Oshrat Kotler's comments should be condemned."

At the end of the show, Kotler sought to clarify her comments, saying: "I wish to stress, please understand, my own children and their friends are all combat soldiers in the territories for many years; my own friends as well. My criticism was directed solely toward those soldiers that our control of the Palestinians in the territories has led them to harm innocents."

"I would just like to add that those who truly listened to what I said at the introduction to the story, and didn't rush to slam me online, realized I was actually in favor of lenient punishment for the accused soldiers, since we are the ones sending them into this impossible reality. Are you happy now? I will continue expressing my opinion on this show. You won't be able to silence me!" she said.
Scathing criticism on the right
The parents of the accused Netzah Yehuda soldiers called Kotler's comments "unfortunate and ugly," adding that such statements "have no place in Israeli discourse, certainly not coming from a news anchor who is supposed to present the facts and not her twisted worldviews."

"Our sons enlisted in the IDF out of a sense of mission and Zionism, chose a difficult and exhausting track, chose to be fighters in the IDF, and sought not shortcuts. They are carrying out a complex mission in one of the most complex sectors there is," the parents said. "These are the State of Israel's best sons who—even though they lost two of their comrades just a month and a half ago—walked with their heads held high and carried out any mission they were tasked with—impeccably."

"Kotler didn't ask who these soldiers are, what they've gone through to enlist in the army, what immense difficulties they experienced, and chose to call them horrible things. These boys were in pre-military prep courses, excelled in their service, dealt with dangerous situations like no others—all to provide security to the citizens of Israel," the parents said.

"The incident for which they were arrested is only now starting to become clear, and already profound questions arise surrounding it: primarily, why were they tasked with such a sensitive and unnecessary mission? Why did they not receive appropriate psychological help after the difficult trauma they had experienced? And why did they not undergo proper preparations to transport the terrorists who were involved in the murder of their friends?" the parents went on to say.

The parents further added that Kotler, "who sleeps safe and sound at night thanks to our sons, chose to pass her judgment without trial based, among other things, on a false presentation (of facts) that the military prosecution is trying to construct. They turned our sons into scapegoats, making blatant and serious comments constantly, creating a distorted sense as if they are violent and out-of-control criminals, trying to cement the notion to the public that they are not heroic fighters, but rather common criminals, and so it's no wonder that they have become 'animals.' We won't give up and won't be silent. We'll do everything to defend our sons, they deserve this; just as they defended the security of the citizens of Israel."

The New Right Party, led by Education Minister Naftali Bennett and Justice Minister Ayelet Shaked, said it would ask Attorney General Avichai Mandelblit to prosecute Kotler according to Article 4 in the Defamation (Prohibition) Law following her "outrageous and inciting comments ... against IDF soldiers."

"IDF soldiers sacrifice themselves so all of us, even Oshrat Kotler, could sleep peacefully. 'Animals' are the terrorists who murder children in their bed, a girl out on a walk or a whole family driving down the road. IDF soldiers are our children and our strength. Kotler's comments hurt the good reputation of the heroic IDF soldiers and slanders them," said Bennett.

Knesset Speaker Yuli Edelstein (Likud) countered Kotler's comments, saying "we send the children to the army and get them back with even more values, morals and patriotism. This is the unique nature of our army, and it is unmatched by any other army. This is how it has always been, and how it will always be."

Former defense minister Avigdor Lieberman's party, Yisrael Beytenu, put their own spin on Kotler's comments, saying: "We send the journalists to sit in an air-conditioned studio with high salaries and get them back as condescending. This is the result of detachment. We embrace IDF soldiers."

Coalition chairman David Amsalem (Likud) warned Kotler to "speak nicely of our soldiers. The IDF is the most moral army in the world. I'm proud of IDF soldiers. Thanks to them we're here."

National Union leader MK Bezalel Smotrich quipped: "Dear Oshrat, I understand you're still counting on a reserved spot on Ahmad Tibi's list."
Defense on the left
On the left side of the political spectrum, Meretz leader MK Tamar Zandberg lamented the "pitiable and yet expected attack on Kotler's just comments."
"You don't want a reality of occupation and violence? Then it needs to be changed. Looking the other way and then attacking the messenger is not the solution," she said.
Joint List head MK Ayman Odeh said, "If you're so afraid of hearing the word 'occupation' in prime time, maybe you should just end it?"
The NGO Peace Now said that "it's allowed and advisable to look in the mirror sometimes, and honestly admit to the damages of the occupation. Those who care about the future of our children should work to end the occupation and not work for its continued maintenance, because the price is heavy. So when the right distorts and incites, and when MKs rush to become defiled, Oshrat Kotler's brave comments deserve a stage."
Channel 13 News said in response that "Oshrat Kotler is an opinionated journalist who expresses her views from time to time, as do other journalists on our news desk who possess other views. Oshrat has expressed solely her own personal opinion."
This isn't the first controversial comment from Kotler, who two years ago said right-wing settler activist Ezri Toby "knows how to sing, edit and direct, and there is no doubt this is a sane settler. Those exist, it appears, even in Yitzhar."
A week later she apologized, saying that "at the end of the story, I decided to carry on complimenting Ezri Toby, but the phrasing of the comments I made live on TV was of course not the best, to put it mildly. This gave the wrong impression of what I think about the settler public, and that is the truth. My intention was (to highlight) the moderate, sane voice Toby presents, which we documented in the story—and for good reason. So I apologize that the unplanned phrasing was not the best and did not match my intentions."
Ran Boker, Yoav Zitun, Moran Azulay, Elisha Ben Kimon and Amihai Attali contributed to this story.