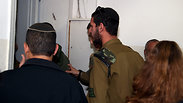 Israeli platoon commander brought to court
Platoon commander of IDF's religious unit charged with failing to stop assault
Although the officer from the troubled Netzah Yehuda battalion did not actively participate in violence, he is accused, in a precedent-setting indictment, of not preventing his subordinates from severely beating two Palestinian detainees.
A platoon commander from the IDF's religious Netzah Yehuda battalion was indicted on Sunday for not stopping his soldiers from severely beating two Palestinian detainees while they were handcuffed and blindfolded.

According to the indictment filed against the lieutenant by the Military Advocate General, his offenses include failing to prevent the assault, causing serious injury through negligence and inappropriate behavior due to not fulfilling his duties as an IDF officer.

The incident took place earlier this month during a manhunt for As'am Barghouti, who shot dead two soldiers from the Netzah Yehuda Battalion at the Giv'at Asaf outpost in the West Bank in December. The two Palestinians were arrested on suspicion they helped Barghouti and his brother—who were also involved in a deadly terror attack near Ofra Junction—evade capture. Five soldiers from the battalion were indicted last month with aggravated abuse and aggravated battery.

"The commander saw that his soldiers were violently assaulting the Palestinian detainees while they were handcuffed and blindfolded. Yet he did not intervene, and allowed the beating to continue," the Military Advocate General said in the indictment. The officer was suspended immediately following the incident.

According to legal sources in the military, this is a precedent-setting indictment because the officer didn't actively participate in the violence nor did he initiate it. During his questioning, the officer also claimed to have asked the soldiers to stop the violence, a testimony which was corroborated by one of the soldiers.

In his testimony the officer also claimed that he wasn't aware of the violence being committed by his subordinates as he was sitting in the front seat of the vehicle, which was separated from the back seat—where the assault occurred—by a partition. In addition, he claimed loud music that was blaring inside the car prevented him from hearing the what was happening. A video filmed during the incident appears to reinforce the officer's claims.

The indictment, however, was filed in order to convey a message to other officers and military commanders that taking decisive action against improper conduct encountered by their subordinates is an integral part of the job.

The indictment was filed after the parties involved tried to reach a plea deal that would include a conviction and a short-term prison sentence but not a criminal record. In the wake of the indictment, the platoon commander is expected to either leave the military or be discharged.