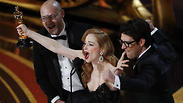 Guy Nattiv and Jaime Ray Newman win the Oscar
Photo: Reuters
Israeli director wins Oscar with movie 'Skin'
Guy Nattiv wins the Academy Award for Live Action Short Film with 'Skin,' which deals with a hate crime from the point of view of a white kid and a black kid; the excited Nattiv calls out 'Lila Tov Israel!' ('Goodnight Israel') in Hebrew, adding that 'This film is about teaching your kids a better way.'
Israeli director Guy Nattiv won an Oscar for Live Action Short Film with his movie "Skin" at the Academy Awards early Monday morning.
The 20-minute movie, which stars Jonathan Tucker, Danielle Macdonald and Jackson Robert Scott, deals with a hate crime and its ramifications from the point of view of two children, one white and the other black.
The last time an Israeli won the Oscars was in 1978, when Moshé Mizrahi won Best Foreign Language Film with his movie "Madame Rosa," an adaption of the 1975 novel "The Life Before Us" by Romain Gary.
Guy Nattiv wins Oscar for movie 'Skin' (באדיבות ©A.M.P.A.S.® /yes ו-STINGTV)
The overjoyed Nattiv took the stage to accept the award with his wife, Jaime Ray Newman, who produced the film, and screenwriter Sharon Maymon.
"I moved here five years ago from Israel," Nattiv began and quickly added "Goodnight Israel!" in Hebrew ("Lila Tov Israel").
"My grandparents are Holocaust survivors," he then went on to say. "The bigotry that they experienced in the Holocaust, we see that everywhere today—in America and in Europe. This film is about education; it's about teaching your kids a better way."
"We dedicate this to our five-month-old baby, who is sitting at home with my parents watching this," the excited Newman added. "We hope that you grow up in a world where these things don't happen because people learn to love and accept each other."
Sharon Maymon, who wrote the script, told Ynet that "It's very exciting when a movie you made gets this status, which you can only dream of. So now that the dream is a reality, all we have left is to use it to boost up the next movie."
He said that a year ago, he sent Nattiv a message saying "I have an idea for a movie that will get us to the Oscars."
"It's exciting to realize a childhood dream and send a message about racism, parenthood and education. A lot of people in Israel know about Gilad Shalit, but how many know about Avera Mengistu? This movie is about skin color, which unfortunately still makes a difference," Maymon said.
Israel's President Reuven Rivlin was quick to tweet his congratulations to Nattiv. "Congratulations to Guy Nattiv on winning Best Live Action Short at tonight's Academy Awards. Dear Guy, all credit for 'SKIN' goes to you, Sharon and Jaime Ray, but the movie is a gift to our children and grandchildren and for the future we wish for them. Proud to be Israeli! Mazal Tov!" Rivlin wrote.
Nattiv's full-length film, also titled "Skin," will come out later this year. It is based on an 2012 MSNBC documentary about Bryon Widner, one of the FBI's most wanted white supremacists, who turns his life around after meeting a single mother and her three young daughters.