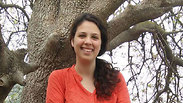 Ori Ansbacher
Photo: Courtesy of family
Palestinians uproot trees planted in memory of slain Israeli teen
Clashes erupt as settlers plant trees in the West Bank to commemorate 19-year-old Ori Ansbacher who was brutally murdered by a Palestinian terrorist earlier this month; Egged to commemorate young victim by posting her poems on exterior of their buses.
Palestinians on Sunday uprooted some 50 trees planted in the West Bank in the memory of Ori Ansbacher, who was brutally murdered in Jerusalem by a Palestinian terrorist.

The 19-year-old was attacked and murdered at the beginning of February by 29-year-old Arafat Irfayia in the woods of Ein Yael, on the outskirts of Jerusalem.

The trees were planted between the West Bank settlements of Tekoa, where Ansbacher lived, and Nokdim, during which a confrontation sparked between local Palestinians and the settlers, with the Israel Defense Forces having to intervene. Shortly thereafter, the settlers noticed the Palestinians had extracted the newly planted trees.

Gush Etzion Council head Shlomo Ne'eman said in response: "The State of Israel must define this agricultural terrorism as terror for all intents and purposes,l and put an end to this phenomenon. A firm stand must be taken, for we cannot allow human lives to be harmed."

Meanwhile, as part of an initiative led by drivers from the Egged bus company, poems Ansbacher wrote will be printed and displayed on the company's vehicles.

Several days after she was murdered, one of Ansbacher's poems was published by the Yedioth Ahronoth newspaper, moving many Israelis. One of them was bus driver Amnon Aliah, who decided to commemorate Ori.

"This murder shook me up and I felt I have to do something. When I read Ori's poems, I felt the urge to distribute them for the sake of the family," Aliah said.

Aliah's colleagues joined him in his initiative to commemorate Ori, and some 15 signs with her poems will be posted on the exterior of Egged buses in the upcoming days.

"This is the least we can do. Ori was special and managed to touch each and every one of us," Aliah said.