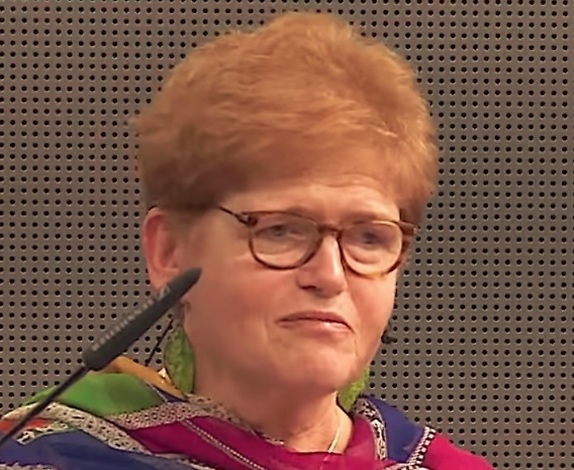 Deborah Lipstadt
Photo: International Committee of the Red Cross (ICRC)
Holocaust historian quits synagogue over support for Netanyahu deal with extremist party
Deborah Lipstadt, known for her ardent fight against Holocaust denial, says she is leaving her local Atlanta synagogue because she 'cannot be associated with an organization that gives such racism, celebration of violence, and immoral policies' a kosher certification.
Renowned Holocaust scholar Deborah Lipstadt has resigned her local synagogue membership, after the Young Israel Movement to which it belongs defended Prime Minister Benjamin Netanyahu's efforts to strike a deal between the Jewish Home party and the extreme-right Otzma Yehudit (Jewish Might) party.
"I cannot be associated with an organization that gives such racism, celebration of violence, and immoral policies a 'heksher' (kosher certification)," Lipstadt wrote in a Facebook post on Tuesday.
"At this time of rising antisemitism, Jew hatred, and prejudice of all kinds, each of us — and not just our spiritual leaders – must speak out and act individually and collectively. And so I speak out with deep sadness that such a despicable action is given 'cover' by people who claim to walk in the ways of the Kadosh Baruch Hu," Lipstadt wrote.
Citing the need to harness as many right-wing votes as possible in the April 9 elections, Netanyahu personally pushed for the Jewish Home agreement with Otzma Yehudit, a party co-founded by a former member of the Kach movement, which was classified as "a right wing terrorist group" by the FBI in 2001.
Lipstadt's announcement of her resignation from the synagogue came after the Young Israel Movement was quoted by the Jewish Telegraphic Agency as saying that Netanyahu "acted to get right-wing parties to merge in order to meet the threshold necessary to secure a victory in the election."
"We understand what Prime Minister Netanyahu did, and he did it to have ministers of the national religious and National Union parties in his coalition," said the statement from the Orthodox organization for which Lipstadt's former Toco Hills, Atlanta congregation is named.
A statement from the rabbi of Lipstadt's synagogue, Adam Starr, condemning the Young Israel support for Netanyahu was not enought to persuade the Holocaust historian to remain.
"This is a party that has racist views," Lipstadt told the JTA. "This is a party that condones murder. This is a party that condones the man who committed the largest mass murder in Israel by a Jew. Those are all things that I find despicable, and to say it's just politics is really bad."
Lipstadt was referring to the support of Otzma Yehudit member Itamar Ben-Gvir for Baruch Goldstein, the Jewish settler who murdered 29 Palestinians in a massacre in Hebron in 1994.
Speaking to JTA. Lipstadt also criticized Netanyahu for wooing nationalist leaders in Europe, including Hungarian Prime Minister Viktor Orban.