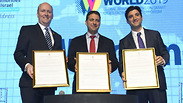 Grossman, Bibas and Becker
Photo: Hura Novominsky
In response to the recent uptick in anti-Semitism around the world, a coalition of mayors of cities around the world are pledging to combat hate, anti-Semitism and the BDS (boycott, divestment and sanctions) movement targeting Israel.

The initiative is headed by Modi'in Mayor Haim Bibas, Mayor of Bal Harbour (Florida) Gabriel Groisman and Mayor of Frankfurt Uwe Becker.

They intend to release a statement signed by the mayors of 40 cities to combat anti-Semitism. They will commit to a number of steps including conducting an annual gathering to discuss dealing with the issue, taking concrete steps to raise awareness in the educational system, examining the possibilities for applicable legislation and exploring ways in which to unite against the rise in extremism around the world.

""We unequivocally condemn all forms of hatred, prejudice and contempt that have permeated our society, and we, municipal leaders from around the world, understand that we cannot avoid taking responsibility and taking part in global efforts to counter these phenomena," read a statement signed by the mayors last week.

The formation of the coalition was announced during the Local Government Conference for Innovation MUNI-Expo 2019, a gathering for mayors from Israel and around the world.

Among the prominent mayors participating are the mayors of Pittsburgh, USA; Montevideo, Uruguay; Belgrade, Serbia; Kiev, Ukraine; Taipei, Taiwan; Tirana, Albania; and Tegucigalpa, Honduras.
Zero tolerance
"What binds us together is not our religion or nationality, but the fact that we have zero tolerance for hatred and violence, and our duty to stop the violence directed at our residents and to work for the improvement of their lives no matter what religion they believe in or what their nationality is," said Bibas, chairman of the Union of Local Authorities and the mayor of Modi'in Maccabim-Reut.

"We see the meteoric rise of hate and anti-Semitism around the world, and as mayors we must take part in this important struggle. With the establishment of this coalition, we are making a strong statement against those who spread hate and it will serve as a vital tool for mayors around the world to share ideas and conclusions to combat these phenomena," said Gabriel Groisman, Mayor of Bal Harbour, Florida and one of the initiators of the coalition.

"Our partnership as city leaders who stand together against anti-Semitism is a strong sign of solidarity towards Israel and a clear message against those who spread hatred against the Jews around the world, and I am happy to head this initiative together with Haim Bibas and Gabriel Groisman, and together as a coalition we will create a strong voice for Jews around the world," said Frankfurt Mayor Uwe Becker.

"I've seen a study showing how certain areas of the US are left behind in areas of economic development, there are whole areas that are not part of the acceleration in technology, and it's happening in the whole of the US," said Pittsburgh Mayor Bill Peduto.

"This is where the most extreme racist and anti-Semitic discourse on the social networks occurs. There, where the state neglects the residents economically, communities are created that are more inclined to hate on the social networks and hate crimes, and therefore the context of economic neglect cannot be separated from this hate crime context."