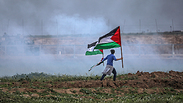 Riots along the Israel-Gaza border
Photo: EPA
Israel is reportedly warning Palestinian terror organization Hamas that it faces widespread military action if it does not rein in violence along the country's border with the Gaza Strip, the neighboring coastal enclave that it rules.
The two sides are in the midst of indirect negotiations mediated by Egypt meant to consolidate a ceasefire arrangement after months of escalating tensions between the two sides, the London-based, Arabic-language newspaper Asharq al-Awsat reported Wednesday.
According to Lebanon's Al-Akhbar newspaper, Israel said that although the government is willing to amend the terms of the agreement in line with Hamas demands, if the terror group persists with the border violence, a wide-scale military operation in the Strip would be inevitable.
The Israeli warning comes amid an especially close elections campaign in Israel, which sees the issue of security take center stage as Prime Minister Benjamin Netanyahu attempts to win reelection against a party headed by former military chief Benny Gantz, which appears to be ahead in the polls. Gantz's Blue and White Party is also the political home of fellow former IDF heads Gabi Ashkenazi and Moshe Ya'alon.
Explosive device tied to balloons above Israel (צילום: עומר צדיקוביץ)
The Egyptian delegation—made up of intelligence officials—has been mediating a possible ceasefire arrangement between Israel and Hamas for the past few months. The negotiations, however, have stalled due to the continuation of violent Palestinian "March of Return" protests along the Gaza border and the start of Israeli election campaigning. In an unusual move, however, the deputy head of Egyptian intelligence also joined the country's delegation for the latest visit to the coastal enclave.
The London-based publication added that as a pre-condition for the further transfer of Qatari funds to the Gaza Strip, Israel is demanding that Hamas cease all violence along the border, including riots near the security fence and the launch of incendiary airborne devices that have decimated Israeli farmland near the border.
Over the past few days, the IDF struck several Hamas position in Gaza in response to explosive devices tied to balloons being launched into Israeli territory.